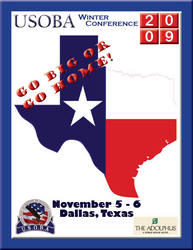 USOBA conferences afford individuals across the debt settlement industry the opportunity to gain a wealth of invaluable knowledge
Houston, TX (Vocus) October 9, 2009
The United States Organizations for Bankruptcy Alternatives (USOBA), a trade association advocating for fair regulation and consumer protection in the debt settlement industry, confirmed speakers for its 2009 Winter Conference today. This year, the conference will be at the Adolphus Hotel in Dallas, Texas from November 5 – 6. USOBA encourages all of its members as well as non-members to attend the conferences.
The mission of USOBA is to create and advocate an agenda that promotes consumer protection solely for the debt settlement industry. Through industry conferences, USOBA brings distinguished speakers that share their wisdom, knowledge, and interest of the debt settlement industry at all levels.
One of the highlights of the conference will be the Legislative Panel. Representatives from key states will be giving updates on the legislative happenings at the state and federal level in regard to debt settlement.
The USOBA Board of Directors will be leading a panel discussion and giving updates about each of the USOBA Committees. This highly informative session is aimed to inform the membership of USOBA's future plans for 2010.
"USOBA conferences afford individuals across the debt settlement industry the opportunity to gain a wealth of invaluable knowledge," USOBA Executive Director Jenna Keehnen said. Compliance is always a top priority in this industry, and USOBA conference speakers cater to that with an educational and informative experience for the attendees."
The 2009 Winter Conference Speakers:
John Ansbach: EFA General Counsel and USOBA Legislative Chairperson
Jeffrey Tenenbaum and Jonathan Pompan: Venable LLP
Eddie Reeves: Reeves Strategy Group
Robin Read: National Foundation of Women Legislators
Robby Birnbaum: Greenspoon Marder
Doug Crowder: The Law Offices of Douglas Crowder
Roger Knauf: DBA International
Michael Hendrix: Global Client Solutions and Debt Trak
Clint Woods: PierPont Communications
About USOBA
USOBA is dedicated to providing its member companies with important, industry-related information, including compliance requirements, as well as advocating on behalf of its membership for fair and appropriate industry regulation that maintains the utmost in consumer protection. USOBA members are provided a USOBA State Law Summary guide, the only one of its kind in the industry, to better ensure and promote national compliance. This guide contains the laws and regulations, state by state, and has been reviewed by regulators and legislators. For further information, please visit http://www.usoba.org.
###