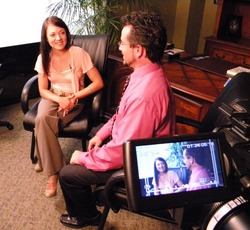 The nutrients you supply your body with today can directly affect your appearance tomorrow
Wilmington, N.C. (Vocus) October 9, 2009
Chews-4-Health, the world's first super fruit, sea vegetable, antioxidant chewable dietary supplement, will be featured on the upcoming television show "Beauty Spaces" (from the producers of the award-winning show "Designing Spaces"). This "Beauty from Within" special will air nationally on the WE (Woman's Entertainment) Network on Oct. 16 at 7:30 a.m. ET, and on TLC (The Learning Channel) on Oct. 17 at 7:00 a.m. ET.
Unique among dietary supplements, Chews-4-Health provides 13 servings of fruits and vegetables, plus age-fighting antioxidants—a combination that promotes good health and beauty from within.
"The nutrients you supply your body with today can directly affect your appearance tomorrow," said Dr. David Friedman, formulator of Chews-4-Health.
In addition to Friedman, also appearing on "Beauty Spaces" to share their excitement about this revolutionary product is cosmetic dermatologist Dr. Jonathan Crane and anti-aging specialist Dr. Connie Odom. The doctors take Chews-4-Health every day and recommend it to their patients.
"Vitamins and supplements play a tremendous role in overall skin, hair and nail health,"says Crane on the show.
Doctors agree that beauty starts from within, but consumers may be surprised to know not everything they take in is used by the body. According to the Physician's Desk Reference, pills swallowed whole are often only 10 percent absorbed, meaning people do not receive the full benefits of vitamins taken in pill form. Additionally, pills often contain binders and fillers such as rocks and oyster shells, which can not be digested and used by the human body. In contrast, Chews-4-Health contains no fillers and is 100 percent broken down in the mouth where digestion begins, leading to quicker and better absorption.
"I hope that being featured on 'Beauty Spaces' allows many more people to discover this phenomenal product, and take an important step towards better nutrition and wellness," said Friedman. "'Side effects' include improvements in hair, skin, nails, focus, energy level and more… who wouldn't love that?"
"Beauty Spaces" featuring Chews-4-Health will premiere on the WE Network on Oct. 16 at 7:30 a.m. ET, and TLC on Oct. 17 at 7:00 a.m. ET (check your local listings). The show will also be aired in select cities across the country throughout the first weeks of October.
About Chews-4-Health
Launched July of 2008, Chews-4-Health Inc. is headquartered in Wilmington, N.C., and its revolutionary product is now being sold in every major city in the USA and Canada. The company is led by CEO Dr. David Friedman, renowned chiropractic physician and doctor of naturopathy, recently named Health Expert for Lifetime Television's weekly show "The Balancing Act." The product Dr. Friedman formulated is a delicious, natural, chewable dietary supplement derived from 16 of the world's most nutrient-rich sources from land and sea. For more information, please visit the Chews-4-Health website, at http://www.orderchews.com.
For more information about becoming an independent Chews-4-Health distributor, please visit http://www.faststartwealth.com.
###