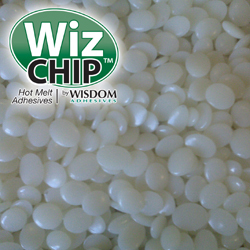 Elgin, IL (PRWEB) October 15, 2009
Wisdom Adhesives, North America's top mid-sized manufacturer of high performance, environmentally safe industrial adhesives, introduces their revolutionary new WizChip™ - a hot melt adhesive chip that utilizes Wisdom's innovative proprietary adhesive chemistry for an optimum quick melt rate. WizChip, a flat-rounded chip form, offers a best-in-class fast melt rate that speeds consumption and reduces charring. WizChip's unique component blend process makes it block-free, easy-to-handle, simple-to-dispense into melt equipment and ideal for packaging and converting applications. The WizChip is available in Standard Temperature, Low Application Temperature and Specialty Grade Products.
Founded in 1875, Wisdom Adhesives, North America's longest running adhesives manufacturing company, is fifth-generation owned and managed. Wisdom Adhesives is a supplier of environmentally safe and compliant water-based and hot melt adhesives to industrial users throughout the world. Wisdom Adhesives is recognized as a top mid-sized adhesive manufacturer of Water-based Resins, Dextrins, PSA's and Acrylics; Hot Melt Eva's, PE's and PSA's; Protein Adhesives and Reactive Products. Wisdom supplies adhesives to a wide range of industries including Book Binding, Converting Tissue and Towel, Graphic Arts, Packaging, Product Assembly, Textiles and General Purpose. Wisdom Adhesives has a long-standing commitment of responding to customer needs faster - with a 24-hour turnaround - than any company in its industry, providing high-quality products and personalized service second to none.
To obtain more information, call 847.841.7002 or visit http://www.wisdomadhesives.com.
Wisdom Adhesives' corporate headquarters and manufacturing facility is located at 1575 Executive Drive, Elgin, IL 60123.
###