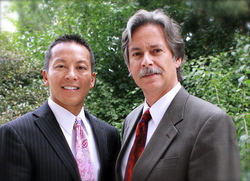 The new office offers our patients privacy and comfort
Oak Brook, Ill. (PRWEB) October 9, 2009
"The new Oak Brook, Ill. office of Face and Body Plastic Surgery, PC is located at 2425 W. 22nd St.--minutes from downtown Chicago and convenient to I-88 and shopping," says board-certified plastic surgeon Allan Parungao, MD, FACS.
"Our new location is in the bright, airy Oak Brook Medical and Surgical Centre," adds board-certified plastic surgeon Ricardo Izquierdo, MD. "The grand opening celebration on Thursday, Oct. 15 from 5:00 to 8:00 p.m. will offer cocktails and appetizers in the building's spacious atrium and will flow through the new office space."
The event will focus on rejuvenating, non-surgical "lunchtime" treatments with virtually no downtime. Live presentations will demonstrate popular facial injectables including Botox Cosmetic and wrinkle-fillers Juvéderm and Radiesse.
"Many women are eager to try Latisse, Allergan's popular new prescription eyelash-growing product," says Dr. Parungao, author of A Woman's Guide to Cosmetic Breast Surgery and Body Contouring. "Dr. Izquierdo and I will be available to do the health evaluation and write the prescription required to obtain Latisse. For the grand-opening event, we are offering Latisse for $100 after a $20 mail-in rebate."
"Our new Oak Brook location has an on-site, accredited, professionally staffed outpatient surgery center," says Dr. Parungao. "Limo service is available for patients and their families on the day of surgery."
"The new office offers our patients privacy and comfort," adds Dr. Izquierdo. "We are conveniently located near Oak Brook Center shopping, dining and world-class hotel accommodations for our patients who travel from out of town. Our office is easily accessible from all over Chicagoland, and a short ride from O'Hare International Airport and Midway Airport."
The first 20 guests at the grand opening will receive a complimentary copy of NewBeauty Magazine featuring Dr. Parungao. Guests who bring a friend will receive a $25 gift certificate. And just in time for the holidays, gift certificates will be available. Guests who purchase a $100 gift certificate will receive a $25 bonus certificate. And a grand prize drawing will feature valuable awards.
The grand opening will also feature information on prescription-grade skin care products available at the on-site medical spa. Clinique Medical Skin Care products are especially effective for use before and after laser skin treatments, as well as for patients with sensitive skin, rosacea or mild acne.
The Vivité Skin Care system features anti-aging products including antioxidants and glycolic-based GLX technology to exfoliate, hydrate and protect the skin.
To RSVP for the Oct. 15 open house, call 630.794.0700 by Oct. 12.
Allan Parungao, MD, FACS, is a plastic surgeon and author board-certified by the American Board of Plastic Surgery. He has Chicago-area offices in Oak Brook, Naperville and Vernon Hills, Ill. For more information, visit http://www.parungao.com.
Ricardo Izquierdo, MD, is a board-certified plastic surgeon with offices in Oak Brook and Naperville, Ill. in suburban Chicago. For more information, visit http://www.faceandbodychicago.com.
# # #