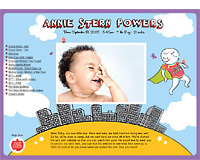 We love that BabyJellyBeans has created a platform that encourages parents to have fun and enables them to share with others. The user experience is easy, interactive and functional, and partnering with them has been a hoot and a half
San Francisco, CA (PRWEB) October 12, 2009
BabyJellyBeans (http://www.babyjellybeans.com), the premier baby website creation platform for parents, is excited to announce its partnership with Wry Baby (http://www.wrybaby.com), the leading humorous baby-gift company with a knack for making parenting fun.
BabyJellyBeans.com has just released a brand new collection of website designs exclusively from Wry Baby. Now BabyJellyBeans' subscribers can choose from a hilarious assortment of entertaining new designs from Wry Baby to showcase their child's photos and videos.
BabyJellyBeans subscribers can choose among designs such as "Estrogen Makes You Forget" and "Hey Dad! Life As You Know It Is Over!" And subscribers can order matching gifts and apparel by clicking the Wry Baby logo from their websites.
"We have been fans of Wry Baby ever since we saw their Snapsuits™ in stores in San Francisco. We admire their creativity and commitment to making people laugh and making parenting fun. We're proud to offer their witty designs as our newest website theme," says Ryan Sakai, President and Co-founder of BabyJellyBeans.com.
"We love that BabyJellyBeans has created a platform that encourages parents to have fun and enables them to share with others. The user experience is easy, interactive and functional, and partnering with them has been a hoot and a half," says David Sopp, Wry Baby designer and Co-founder.
About BabyJellyBeans
Founded in 2004 by married couple Ryan and Tricia Sakai, BabyJellyBeans.com has quickly become the top baby website creation platform on the Internet. Based out of San Francisco, California, BabyJellyBeans offers new parents the ability to easily create an adorable website from pregnancy through toddlerhood. With easy-to-use website management tools, any new parent can make an impressive website to share with loved ones and have a keepsake to cherish forever.
About Wry Baby
Wry Baby was founded in January 2001 by husband and wife team, David and Kelly Sopp. Their experience as new and befuddled parents taught them the importance of sharing laughs along the way. In addition to designing clothing and gifts for babies and new parents, the duo has authored three books. Their company motto is Raise Funny People.
###