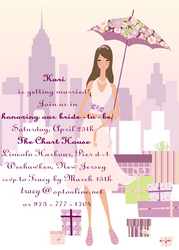 Vista, CA (Vocus) October 9, 2009
Customers shopping on the Zylie Designs website, an online stationery boutique specializing in unique products such as announcements, invitations, and note cards, will now have the option to customize their stationery orders.
Zylie Designs knows everyone has something in mind when it comes to personal stationery. Which is why they offer a customizable option that allows shoppers to put their ideas into print. By providing them with their desired colors, shapes, and patterns, they will be able to put something together that will leave customers satisfied. There are twenty eight different fonts to choose from, and all cards featured on the website can be ordered in different colors. Their desire is to bring their buyers the best in customer service so they can get exactly the product they are dreaming of, not just another off the shelf card.
For the less creative but still discerning card buyer, Zylie Designs has a number of pre-made special occasion cards that will do the trick.
When the big day is fast approaching and the Maid of Honor has just remembered there is a party besides the Bachelorette to be planned, she can check out their bridal shower invitations. Their posh modern illustrations keep the invites elegant yet casual and will appeal to moms, friends, and family alike.
New parents can tell the world they've welcomed the newest blessing into their home with Zylie Design's line of boy and girl birth announcements. The curvy soft font that sets off baby's name, birthday, weight, and length make a very sweet and hopeful card that mirrors Mom and Dad's state of happiness.
When in need of the perfect card to set the tone of a Bar or Bat Mitzvah, check out Zylie Designs' invitations. Created with elegance and propriety in mind, these are the perfect way to show the honor and tradition of such a life changing celebration. There are also response and direction cards to complement the invitations.
All cards are made from deluxe heavy card stock paper and printed with low-glare inks for a sleek look and quality feel.
About Zylie Designs:
Everyone wants to turn their hobby into their full time job, but the success of Zylie Designs is a dream creator Debra Stark never thought possible. After graduating from Northeastern University, she pursued a career in sales until the birth of her two daughters Rylie and Zoe, whose names are the inspiration behind the company name. Her free time was spent creating personal stationery, which soon started catching friends' and family members' eyes. With their encouragement and her own passion and creativity, she was able to expand her hobby and open her own business.
ChicExecs PR
1487 Poinsettia Ave Ste 125
Vista, CA 92081
760.992.9113
About ChicBlvd Inc: ChicBlvd Inc, a women-owned multi-media company located n San Diego , CA which began in 2004, includes three divisions--an online magazine: ChicBlvd at http://www. ChicBlvd.com, product development division: chicBuds Designer Electronics at http://www.chicbuds.com and a Public Relations firm: ChicExecs PR at http://www.chicexecs.com servicing over 80 Clients (sign up for Client updates at http://www.ChicExecsMedia.com.
###