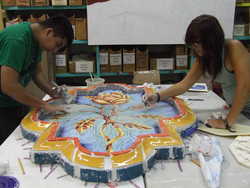 All of these students are incredible
San Antonio, TX (Vocus) October 10, 2009
Seeking to recapture the spirit of a neighborhood landmark, celebrated San Antonio artist Alex Rubio and three of his Blue Star Contemporary Art Center ARTsmart/MOSAIC students will be unveiling three medallions and one large mosaic panel to replace The Virgin of San Juan, a legendary mural that once graced Casiano Homes on Salsemore Street.
The unveiling, which will be coupled with an art show and exhibit by ARTsmart students, will take place in the clubhouse of San Juan Square Apartment Homes, 1938 S. Zarzamora, San Antonio, on Thursday, October 15, 2009 from 5:30 pm to 7:30pm. The unveiling is being sponsored by The NRP Group LLC (developer, builder and property manager of San Juan Square Apartment Homes), Blue Star Contemporary Art Center, San Antonio Housing Authority (development partner in San Juan Square), Coats Rose, Stewart Title and State Representative Jose Menendez. The public is welcome to attend.
According to Rubio, work on the project started this past spring. "I have always wanted to bring back a neighborhood icon that was part of the San Juan community when I was growing up," he says. "I think it's a homecoming for me as an artist. I grew up working at the Mirasol public housing projects as a muralist from ages 16 - 19. It's my way of returning to my roots, to continue serving my community, which is my life long mission; and reenergizing these communities to participate in cultural arts, events and organizations."
When The NRP Group commissioned the art to enhance the architectural aesthetics of the property, Rubio jumped at the opportunity, saying, "(My main) goal is to introduce community arts to residents. A lot of these residents never even get the chance to go to a museum, so we are bringing the museum to them."
In addition to Rubio and his students Michelle Rangel, Joshua Alfaro, and Robert Velaszo, eight student volunteers, two interns and one teacher volunteer worked on the project. Each of the four mosaics is made from thousands of individual clay ceramic tiles, each painstakingly designed, cut, glazed, constructed and grouted by hand. The students' involvement in ARTsmart provides opportunities for them to further their art careers and learn the "business of art."
"All of these students are incredible," Rubio says, "they are willing to devote their free time to a very complicated design process."
The NRP Group LLC: Developer, Builder and Management Company
The NRP Group is a full-service developer, general contractor, and property manager providing a broad range of services. From start to finish, every project The NRP Group takes on is carefully contemplated and executed to maximize investment return, cost efficiency, productivity and satisfaction. The NRP Group has been recognized as NAHB's 2009 Multifamily Development Firm of the Year and has been ranked number one in the Top 50 Affordable Housing Developers for 2007, 2008 and 2009 by Affordable Housing Finance.
A core mission of The NRP Group focuses on the revitalization of neighborhoods with architecturally appealing and high quality affordable housing that blends in seamlessly with the surrounding area and lays a foundation for its future. When putting together a plan for this neighborhood, The NRP Group's Dan Markson, Senior Vice President of Development, envisioned rebuilding the area and rebuilding resident pride as well as new homes. San Juan Square Apartment Homes is the result of that vision with the demolition of 60-year-old public housing units and the reconstruction of a four-phase mixed income property that serves the public housing, 30% AMI, 60% AMI, and Market Rate populations.
In all, The NRP Group has developed, constructed and manages 1500 affordable apartment homes in San Antonio, and more than 12,000 multi-family and single-family housing units nationally including 1500+ added in 2009.
The NRP Group, LLC has offices in San Antonio, Texas; Cleveland, Ohio; Phoenix, Arizona; and Raleigh, North Carolina. For more information, call (210) 487-7878 or visit http://www.nrpgroup.com .
Blue Star Contemporary Art Center
Blue Star Contemporary Art Center is a non-profit, non-collecting contemporary art center in San Antonio, Texas that advances the growth and understanding of contemporary art, artists and the curatorial process, and serves as an for contemporary art in San Antonio. Through exhibitions and a variety of programs, Blue Star is a participant in the development of regional, national and international contemporary art and provides a lively forum for the visual arts dialogue.
Now in its twenty-third year, Blue Star Contemporary Art Center has been featured as the major art destinations for visitors to the City of San Antonio in numerous national and international publications including Wallpaper, American Style, The New York Times, Dart International, Art in America and Texas Monthly to name a few. Blue Star Contemporary Art Center inspires the creative genius in us all with contemporary art exhibitions and art education programs reaching more than 300,000 visitors each year. For more information visit http://www.bluestarart.org .
The San Antonio Housing Authority
The San Antonio Housing Authority (SAHA) serves the affordable housing needs of more than 25,000 San Antonio families through its Public Housing, Housing Choice Voucher and Affordable Housing programs. SAHA has recently entered into an era of new leadership and new priorities, focusing on: improving the quality of life for its clients; preserving and expanding affordable housing; and strengthening the agency's basic services and systems.
SAHA is very pleased to be involved in this exhibit at San Juan Square Apartment Homes because it so closely aligns with the agency's new direction. The beautiful new San Juan Square, as well as the second phase, San Juan Square II, which is nearing completion, is a wonderful example of SAHA's efforts to expand quality affordable housing within our community. Additionally, the artwork on exhibit will showcase the exceptional talent of those involved in its creation, but will also impact the quality of life of those in the community as it can enjoyed by all who reside at and visit San Juan Square.
For more information about the San Antonio Housing Authority, visit http://www.saha.org .
Contact: Michele Yurcich
Phone: 210.487.7878
Fax: 216.475.0700
###