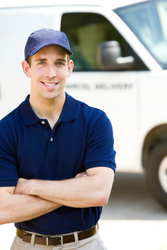 Merrick, NY (PRWEB) October 13, 2009
With six locations across Long Island, New York's #1 Gold Buyer continues to make its services easily accessible and enjoyable for customers with the launch of its Mobile Gold Buying Service. Showing commitment to exceptional customer service, The Gold Standard will now make house calls to customers selling broken, old, unused, or unwanted gold for cash.
With over 75 years of history in the jewelry industry, The Gold Standard bases its business on the strategy of providing each customer a safe and secure transaction, friendly customer service, and a guarantee for the absolute highest payouts in New York for gold and jewelry. By utilizing the Mobile Gold Buying Service customers can expect a professional jeweler to weigh and test their gold items and be paid cash for their gold in the comfort of their own home or office. The service appeals to customers who seek the convenience of mobile services throughout Long Island.
Additionally, The Gold Standard offers an online gold buying service for customers selling their gold jewelry, and the company prides itself in being the number one choice in New York for coordinating increasingly popular NY Gold Parties. The Gold Standard is a member the Jewelers Vigilance Committee, the jewelry industry's hallmark for ethics and integrity, and was recently featured for its "honesty-focused, highest prices paid" business model.
For more information on selling your gold items, requesting the Mobile Gold Buying Service, or hosting a Gold Party offered by The Gold Standard visit http://www.nygoldcashers.com or call (516) 513-0830.
# # #