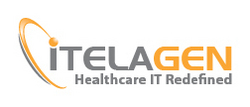 One-Stop Shop for EMR®
Jersey City, N.J. (PRWEB) October 12, 2009
ITelagen, Inc., innovative provider of one-stop, flat-fee healthcare information technology and support, announced it is bringing proven "insiders' expertise" to its electronic medical records (EMR) clients through the hiring of new Chief Healthcare Officer Joel Taylor. Taylor joins ITelagen in delivering its combination of EMR, hosting and billing services to practices and medical groups of all scopes and sizes, with affordable flat-percentage-based pricing.
Most recently, Taylor oversaw New York City's Manhattan's Physician Group's (MPG) transition to the NextGen EMR system. As the largest private medical group in Manhattan, MPG's conversion required meeting the specific and disparate needs of nearly 100 physicians, comprising literally dozens of specialties.
"The hardest part of an EMR implementation can be matching the technology with individual doctors' needs, expectations and accepted ways of practicing medicine," explains ITelagen Chief Executive Officer John O'Keefe. "Joel's mandate at MPG, to 'make the doctors happy,' was a critical part of that project's resounding success. At ITelagen we're thrilled to make that kind of expertise available to all our EMR clients."
"Billing, hosting and IT support are challenges faced by all medical practices adopting EMRs," says Taylor. "Providing a 'one-stop shop' for all of these components is nothing short of revolutionary in the industry, and frankly, was a powerful draw for me to join ITelagen. The company becomes the single point of contact and single point of accountability for physicians, which is precisely what physicians need to be comfortable in shifting to an electronic practice."
Taylor's tenure as Chief Technology Officer for MPG was a highlight of more than 20 years in IT and an in-depth exploration of how doctors want technology to fit into their practice of medicine. The NextGen implementation required customization of hundreds of templates and applications to address the very specific needs and concerns of physicians of all backgrounds, specialties, training and technological familiarity. The process provided Taylor with clinical and operational insight that will be invaluable to the ITelagen healthcare client base.
"As practices and medical groups make the move into using EMRs to enhance the quality of patient care and reap the financial benefits of pay-for-performance programs, they can find no better partner than ITelagen," Taylor adds. "ITelagen's full-service combination of billing, hosting and IT support goes above and beyond the already impressive benefits of an EMR on its own and is just one of the reasons I'm proud to be joining the team."
About ITelagen, Inc.
ITelagen® redefines Healthcare IT for medical practices by providing electronic medical records (EMR) as part of an entire back-office solution that increases revenues and speeds collections. At the same time, ITelagen provides unlimited IT support for all aspects of the platform, network and staff members. It's a unique combination of comprehensive billing and IT expertise bundled with EMR, all for a flat percent of the physician's collected revenue. By combining billing, IT, hosting and certified EMR experts, ITelagen becomes the single point of contact and "One-Stop Shop for EMR®" and computing infrastructure. For more information, visit ITelagen on the Web at http://www.itelagen.com.
CONTACT:
Beverly Bartley
Vice President of Communications
Martopia (Media Representative for ITelagen)
770.754.0233
###