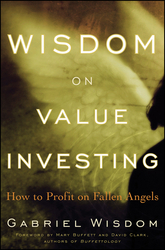 The dumbest reason in the world to buy a stock is because it's going up.
Hoboken, N.J. (PRWEB) October 11, 2009
Warren Buffett dropped $10 billion from his personal balance sheet as shares of Berkshire Hathaway (BRK) fell 20% in 12 months. Still the second richest person in America, he is now worth $40 billion. Does this mean we should dump value investing as it doesn't seem to be working for its biggest proponent and representative?
Gabriel Wisdom, author of "Wisdom On Value Investing: How to Profit on Fallen Angels" (Wiley; October 2009; $27.95; 978-0-470-45730-6; Hardcover), explains that the key to success is having a methodology that works, and the ability to see opportunity and take action before others do. Everyone lost money last year. Forbes says the collective net worth of the nation's 400 richest fell from $1.57 trillion to $1.27 trillion over the year. But value investors understand that declining markets present the greatest opportunities you may ever have to accumulate wealth.
Warren Buffett's value investing mantra is exemplified by the following statements: "You can't buy what is popular and do well" and "The dumbest reason in the world to buy a stock is because it's going up." The "everybody's doing it" philosophy just doesn't cut it in the investing world. While some investors get caught up in the security of knowing other people are buying or selling the same stock as them, this strategy will not lead to significant profit, or worse, may result in staggering losses.
In "Wisdom On Value Investing," seasoned investment adviser and popular radio host Gabriel Wisdom offers his own insights and guidelines for investors at any level, from beginners and novices to the experienced.
Wisdom's winning strategies stem from his golden rule and the number one trait of all successful investors: "Buy stocks (or whatever) when everyone else is panicking, and to sell when others are overly optimistic." Wisdom states, "Panic is the overriding instinct that causes otherwise solid stocks and bonds to suddenly go on sale. You see it all the time. People want out after a meltdown. They can't take the pain and uncertainty, so instead of looking beyond the calamity, they bolt after the annihilation, not before it. This attitude can provide one of the greatest opportunities you may ever have for increasing your wealth." While this strategy can seem "deceptively simple," Wisdom's counterintuitive strategies are harder to adopt than they appear. To resist the urge to follow the herd, Wisdom introduces his successful investing game plan for a high potential return on investment--the Fallen Angels approach.
Part classic value investing and part behavioral finance, this approach involves identifying a stock or commodity whose price has declined to a level below the securities' underlying, intrinsic value and then closely scrutinizing whether the entity's fundamentals are likely to propel it to future revenue and earnings growth. Stock prices for financially viable companies can be devastated by the effects of the business cycle, one-time calamities, or widespread panic. There is always a sale or a bargain; still, investors need to know what they are looking for in order to differentiate between fallen angels, fall-ing angels, and the rightfully and unlikely to rise fallen stocks. As Wisdom attests, "If you have a system for determining what to buy, when to buy it, and when to sell it, you're already ahead of most investors. In another words, you must buy when everyone else is complaining, and sell when they are celebrating." This book is an indispensable guide to helping investors of all stripes succeeds in these challenging times.
About the author
Gabriel Wisdom (Rancho Santa Fe, CA) is a seasoned investment advisor and well known radio broadcaster, who has handled thousands of investment accounts, representing billions of dollars in assets during the last 25 years. He is Managing Director of American Money Management LLC, an investment advisory firm serving individuals, retirement plans, and investment professionals in 31 states. He is President of AMM Funds, which manages The Fallen Angels Value Fund (NASDAQ; FAVLX) and The Fallen Angels Income Fund (NASDAQ; FAINX). He has been an officer or advisor for three Wall Street investment houses (Shearson Lehman Brothers, Prudential Bache, and Sutro & Co.). Wisdom has also had a successful broadcast radio career spanning back to his youth in 1968. Since then, he's been a commentator on NPR and CBS Radio, and currently hosts "Financial Wisdom with Gabriel Wisdom," heard nationally on the affiliates of The Business TalkRadio Network.
###