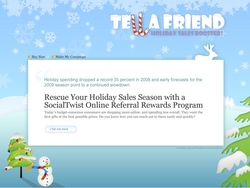 As the global economy continues to recover from the worst economic crisis most retailers have ever seen, Americans will focus primarily on practical gifts and shop on a budget this holiday season
San Francisco, CA (PRWEB) October 12, 2009
SocialTwist, today announced the launch of its Tell-a-friend (TAF) Holiday Sales Booster (HSB) product. This product combines the benefits of social referral and rewards programs for e-retailers who plan to use the power of referral or word of mouth marketing to boost their holiday season sales.
According to a Gallup poll, a record-high 35% of Americans spent less on Christmas gifts in 2008 than what they spent a year before. This year National Retail Federation chief economist Rosalind Wells predicts "As the global economy continues to recover from the worst economic crisis most retailers have ever seen, Americans will focus primarily on practical gifts and shop on a budget this holiday season,"
SocialTwist with its vast experience in creating high impact referral marketing and social rewards solution has introduced this latest offering to help online retailers simply and effectively take advantage of the prevailing trends in social media and users sharing behavior.
These consumer trends are further confirmed by the latest Nielsen Global Online Consumer survey of over 25,000 Internet consumers from 50 countries. The survey found that, "Recommendations from personal acquaintances or opinions posted by consumers online are the most trusted forms of advertising, ninety percent of consumers surveyed noted that they trust recommendations from people they know, while 70 percent trusted consumer opinions posted online."
Vijay Pullur, President SocialTwist says "Everyone is expecting this holiday season to be tough and retailers are rushing in to grab a pie of the smaller customer wallet. TAF Holiday Sales Booster equips marketers with the power of referral marketing, word of mouth and sharing to gain the best during the season."
The TAF Holiday Sales Booster in itself is a one-stop solution for any e-commerce site, developed, deployed and maintained by SocialTwist for its users. It goes beyond the limitations of the ordinary sharing buttons by combining high impact branded referrals with social rewards like discounts, promo codes and sweepstakes entries. Companies can have their own graphic-rich referral emails using personal notes, product images, logo, details of special pricing, promotional offers and more. Every time a product on the site is referred, the message shares the retailer's product, branding, marketing messages along with the personal recommendation of the referrer along and also carries special incentives or rewards. This proven and effective method helps in grabbing a recipient's attention and nudging them towards a purchase.
The TAF Holiday Sales Booster widget is only available for a period of 3 months for a flat fee of $1500, which includes professional services fee for setup and implementing it on any website within 1 week. Site owner gets access to comprehensive analytics to view the results.
About SocialTwist
SocialTwist Tell-a-Friend is a leader in referral marketing products. The TAF suite of products combine direct marketing messages with visitor referrals to dramatically improve click-through rates. Website visitors can reach out to their social graph through email, IM, Facebook and many more channels with a click of a mouse.
Some of the biggest brands, like Intel, P&G, NDTV, Bertelsmann, Indiaplaza and KLM have used SocialTwist products with great success. With over 1.5 billion impressions served and 50,000 customers using Tell-a-Friend, SocialTwist knows how to make referral marketing and social rewards work effectively. Visit http://www.socialtwist.com for more information. SocialTwist is a division of Pramati Technologies.
###