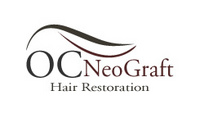 We pride ourselves on relationships and therefore we spend more time with all patients
Orange County, CA (PRWEB) October 15, 2009 -
Hair restoration specialists, OC NeoGraft©, http://www.ocneograft.org, announces it is the first office in Orange County, California, dedicated to the new Follicular Unit Extraction (FUE) hair restoration technique using NeoGraft™. The state-of-the-art technique is much less invasive than the popular Strip procedure, does not require scalpels, sutures, or staples, and has a much quicker recovery time. Most importantly, the result produces a natural hairline that lasts a lifetime.
"There are centers that still perform the unnatural-looking plug procedures that have stigmatized hair restoration surgery," says Dr. Ken Williams of OC NeoGraft© Hair Restoration and Microsurgical Center. "As hair restoration technologies adapt to changing science and technologies, OC NeoGraft's automated FUE hair restoration technique leads the industry by refining the art of hair restoration."
Among the benefits of the FUE hair restoration technique using NeoGraft:

Decreased operating table time vs. manual FUE procedures
Shorter post operative time and recovery than the Strip method
No scalpel, suture, or staples
No surgical removal of a strip of scalp
Least invasive procedure for hair restoration
Much less painful procedure than Strip method
No elongated scars so hair can be worn short
Fewer complications than Strip method
Optimal procedure for tight scalps
Minimal risk of pain from damaged nerves
Minimal risk of bleeding
Minimal risk of damage to occipital or temporal blood vessels
Increase hair grafts transplanted compared to manual FUE
Best procedure to have performed when short hair style is desired
Best procedure when donor site is limited for single procedure
OC NeoGraft Hair Restoration and Microsurgical Center is distinguished from other offices because it is a patient centered, solo practitioner hair restoration center and not a national hair restoration chain. Its surgeon, Dr. Ken Williams, practices medicine and surgery full time at the facility. He does not travel to other offices or states to perform surgery. So when patients need their physician, he is available to take care of their needs 24/7.
OC NeoGraft Hair Restoration Center limits the number of surgical cases per day to a single procedure. According to Dr. Williams, unlike large volume hair surgical centers where multiple procedures are performed in a day by technicians, OC NeoGraft performs only single surgical procedures because "automated FUE with NeoGraft is a technically intensive procedure that requires a surgeon's entire focus."
"We pride ourselves on relationships and therefore we spend more time with all patients," says Dr. Williams. "There are no sales people or marketers at our offices. Patient safety and education is of primary concern to our staff. OC NeoGraft will never be a hair transplant mill. Our office practices to the highest standards of medical care and we counsel our patients on what is in their best interests."
Automated FUE with NeoGraft is performed under local anesthesia in OC NeoGraft's modern surgical office environment. Patients are awake and conscious for the entire procedure unless oral medications and light sedation is requested to lessen the anxiety of this office based procedure. OC NeoGraft's surgical staff routinely transplants 2000 FUE grafts per session.
About Dr. Ken Williams' surgical team and philosophy
The surgical team at OC NeoGraft has a combined total of 16 years experience in the hair restoration specialty. Ken L. Williams, Jr., D.O. is a board certified primary care physician and surgeon practicing medicine and surgery in Orange County since 1986. He is a member of the International Society of Hair Restoration and the American Academy of Cosmetic Surgery.
Numerous individuals are involved in the hair transplantation surgery. Outside of the surgeon's skill and expertise, the surgical technicians play an instrumental role in the final outcome of hair restoration surgery. "At OC NeoGraft we are proud of our surgical team and the high degree of surgical care and expertise we provide," says Dr. Williams. "Our surgical team has performed approximately 100,000 FUE grafts with NeoGraft."
Travel to OC NeoGraft's office is easily accessible by the John Wayne, Long Beach, or Los Angeles International airports. The office is conveniently located near Disneyland and the Newport Coast.
For more information about automated FUE with NeoGraft, visit Dr. Williams at http://www.ocneograft.org.
Contact:
Dr. Ken Williams
OC NeoGraft Hair Restoration Center
714-972-8001
###