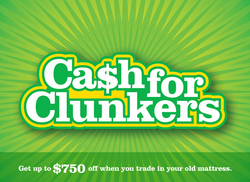 Sleep Experts' Cash for Clunkers event offers North Texans the chance to capture big savings, get rid of their tired old mattresses, and provide comfort for a local family in need, all at once
Dallas, Texas (PRWEB) October 13, 2009
Forget about cash for your old car. Sleep Experts wants your lumpy old mattress. During its first-ever "Cash for Clunkers" event, the Dallas/Fort Worth mattress retailer is offering up to $750 off select mattress sets to consumers who trade in their old mattresses. The company's goal is to collect 1,000 mattresses to recycle and donate to local nonprofit organizations serving D/FW families and children in need.
"Sleep Experts' Cash for Clunkers event offers North Texans the chance to capture big savings, get rid of their tired old mattresses, and provide comfort for a local family in need, all at once," said Christine Cook, wife, mom and president of Sleep Experts. "We donate recycled mattresses to the community year-round, but during this event, we are extending a 'thank you' to our customers with this special offer."
The Cash for Clunkers event begins October 14 and runs through November 17. The offer is given in the form of an instant rebate and is good on select mattress sets including Simmons, Laura Ashley, Beautyrest, and ComforPedic. In addition to the rebate, during the event Sleep Experts is offering special financing, with no money down and no interest for two years. Customers do not need to bring their trade-in mattresses into the store. The Sleep Experts delivery team will pick up the old mattress, in any condition, when delivering the new one.
Sleep Experts supports the D/FW community through partnerships with more than 20 area nonprofit organizations that nurture and care for children and families in crisis. Through its Rest Assured program, every time a customer buys a new Sleep Experts mattress, the company recycles the old mattress and donates it to one of these organizations. To date, Sleep Experts has provided more than 6,000 beds to the community and donated over $400,000 in recycled mattresses, resulting in over a million nights of sleep for thousands of families in need.
About Sleep Experts
Sleep Experts, a mattress retailer with 34 locations in the Dallas/Fort Worth Metroplex, offers a broad selection of innerspring mattresses, foam mattresses and air mattresses, with brands including Simmons, Beautyrest, Back Supporter, Tempur-Pedic, ComforPedic, Sleep Designs and Air Number. Sleep Experts is the recipient of the 2009 Greater Dallas Business Ethics Award and the 2009 Consumers' Choice Award®, and has been voted a Best Place to work in D/FW by Dallas Business Journal and The Dallas Morning News. Through its Rest Assured community program, Sleep Experts recycles customers' old mattresses and donates them to non-profit organizations serving families in crisis. For more information, visit http://www.sleepexperts.com or call (888) 55-SLEEP.
###