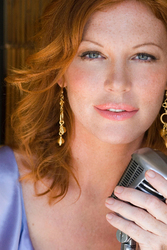 New York, New York (PRWEB) October 12, 2009
Actress and singer, Cynthia Basinet petitions the United Nations Sixty-fourth General Assembly Fourth Committee on behalf of issues facing the Western Sahara.
From the UN official site:
"CYNTHIA BASINET, singer and actress, said she was 'but a small piece' of the larger delegation returning year after year to plead the case that the Saharawi people were not only self-determined, but were also self-reliant in supporting freedom. Once again, the international community must be reminded of the reality that peaceful solutions must be rewarded and violence abolished.
"She said that in this new century, the world faced another reality -- the energy demands of an ever growing world -- which must be addressed. Many of the new possibilities for a better reality could come to fruition, thanks to the efforts of solar energy, which was also in keeping with the Saharawi values. In addition solar power could also be used to clean water, charge cell phones and increase communication, and solar ovens could be built for less than, and with simple supplies.
"The most urgent need for the Saharawi people was clean water, since their wells were currently closed due to health reasons and there was a so-called shortage in water tankers, as those were too expensive and few non-governmental organizations could supply them, she said. On the other hand, pumps could be chargeable by local power, they were affordable, and could be managed by local hands. In eradicating poverty, solar power was clearly the solution for off-the-grid communities like those of the Saharawi people."
Cynthia visited the W. Sahara in '01 in efforts to raise awareness for the Saharwian refugees living in self-determination.
She was later nominated for a shared Nobel Peace Prize as part of the "1000 PeaceWomen Across the Globe" in 2005.
The singer is best known for "Santa Baby".
###