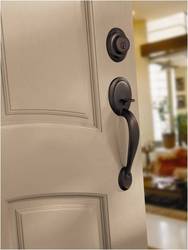 While there are many great benefits to SmartKey, we don't think there's anything better than being able to give your customers the peace of mind of improved security and access control
Lake Forest, California (PRWEB) October 12, 2009
Kwikset, an innovation leader in the residential door hardware industry, today announced that SmartKey re-key technology is available in all of Kwikset's box pack keyed entry products. The expanded availability of this groundbreaking technology ultimately provides an opportunity for a greater number of American homeowners to have the ability to provide their families with improved home security and access control. SmartKey combines the simplicity of re-keying in seconds without removing the lock from the door, the security of BumpGuard to protect against lock bumping, and the pick resistance that withstands the highest levels of testing.
"The benefits of SmartKey technology are clear to homeowners, but building and construction industry professionals also find that Kwikset's SmartKey locks increase job site efficiency, reduce job site liability due to improved security and control, and also increase inventory productivity," said Brent Flaharty, vice president of Marketing, Kwikset.
Originally introduced in 2007 and available only in mid-price point products, SmartKey locks feature a patented side-locking bar technology, central to the device's ability to be rapidly and easily re-keyed in the event a key is lost or stolen. Re-keying also allows homeowners the flexibility to match all Kwikset keyed entries to one key for added convenience and security. This stainless steel side-locking bar also replaces the traditional pin and tumbler design that is particularly vulnerable to lock bumping attacks. The cylinder uses two steel balls inserted into the front of the key face to provide improved drill resistance.
"While there are many great benefits to SmartKey, we don't think there's anything better than being able to give your customers the peace of mind of improved security and access control," said Mary Nichols, senior product manager, Kwikset. "Additionally, that peace of mind shouldn't be reserved for a few. By expanding our offering to all price points, we aim to make improved home security available to everyone."
Kwikset box pack SmartKey products are now available in all price points. Design families recently added to the SmartKey line-up include Tylo®, Polo®, Dorian®, Delta®, Cove™, Dakota™ and the 660/665 deadbolt. For more information on these and other products, visit http://www.kwikset.com/smartkey.
About Kwikset®
For more than 60 years, Kwikset, manufacturer of America's most trusted name in security has provided beauty, security and peace of mind for millions of families. For additional information on Kwikset products, visit http://www.kwikset.com, or call 1-800-327-LOCK.
Black & Decker Hardware and Home Improvement (BDHHI) Group is a division of Black & Decker, a leading global manufacturer and marketer of power tools, power tool accessories and security hardware. Today, the BDHHI Group includes some of the most recognizable hardware and home improvement brands in the world including Baldwin®, Kwikset, Weiser®, Price Pfister® and K2™ Commercial Hardware by Black & Decker.
###