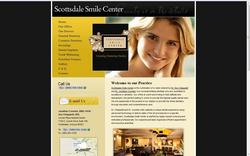 Scottsdale, Ariz. (Vocus) October 12, 2009
Two of the top cosmetic dentists in the region have announced a new partnership at the Scottsdale Smile Center, located in the Lincoln Plaza Medical Center. By working together at the same practice, offering cosmetic dentistry in Scottsdale, Drs. Jonathan S. Coombs and Don C. Chiappetti are able to combine their talents to provide comprehensive treatments for healthy, beautiful smiles.
Both doctors share a commitment to excellence in dentistry, and their new partnership is a result of their mutual goals to achieve this vision. Dr. Coombs and Dr. Chiappetti say they are very excited about the opportunity to form a practice that allows them to work together to serve all of their patients' dental needs and provide treatment at new, state-of-the-art facilities.
Dr. Coombs is experienced in offering advanced general, cosmetic, and restorative dental treatments. He provides porcelain dental veneers in Scottsdale using the CEREC® system and is one of the few dentists in the region to have received certification to perform this treatment. CEREC® is a technologically advanced method of creating custom-designed tooth restorations in a single visit to the dentist. The system also allows for more preservation of the natural tooth. Dr. Coombs is also certified in Invisalign® Instant Orthodontics and advanced teeth whitening methods. Dr. Coombs is one of only about 3% of dentists in the entire country to have reached Fellowship status with the Academy of General Dentistry, an honor achieved by completing hundreds of hours of continuing education.
Dr. Chiappetti is an experienced cosmetic, general, and restorative dentist who has been a featured lecturer at seminars across the country on Smile Design and dental aesthetics. A graduate of the University of Southern California's School of Dentistry, Dr. Chiappetti continues to receive advanced training and certification for new treatment methods, including the CEREC® system and Invisalign® invisible braces. He also uses advanced techniques to offer teeth whitening in Scottsdale, including in-office and take-home solutions.
The cosmetic dentists at Scottsdale Smiles say their practice is designed to provide patients with a spa-like setting, offering amenities geared toward making patients relax and feel at ease. Patients receive warm blankets and headphones during treatment and can watch cable television, listen to their favorite music, or select a movie from the practice's DVD collection.
The Scottsdale Smile Center also uses advanced technology to provide patients with a higher standard of care. Computerized Topography (CT) and Simplant computer software provides safer, more accurate results for patients receiving dental implants. Laser technology, including the Diagnodent® laser cavity detector, helps prevent and treat gum disease and tooth decay without pain and discomfort.
Dr. Coombs and Dr. Chiappetti say this new partnership, coupled with the practice's commitment to the latest technology and an environment designed to be comfortable and ease anxiety, offers Scottsdale-area patients a great way of effectively improving their smiles without the need to fear a visit to the dentist's office.
More information about the Scottsdale Smile Center can be obtained by calling toll free 1-800-758-1066 or by visiting the practice at their location on 7125 E. Lincoln Drive, Suite 106, in Scottsdale, Arizona. A wealth of resources, including a smile gallery and Frequently Asked Questions, can also be found on Dr. Coombs' and Dr. Chiappetti's website, http://www.scottsdalesmile.com.
###