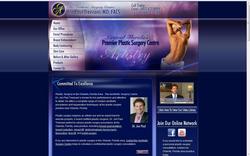 Those patients coming here can feel comfortable that they're getting the best service available, we are committed to providing the highest level of quality care and concern for the individual, while maintaining absolute integrity and confidentiality
Maitland, FL (Vocus) October 12, 2009
Over 10.2 million cosmetic procedures were performed in the United States in 2008 alone. As plastic surgery continues to grow in popularity, many new moms have begun to request plastic surgery treatments to help them rejuvenate their bodies after the rigors of pregnancy and childbirth have taken their toll.
Dr. Jon Paul Trevisani is a board certified plastic surgeon in Orlando, Florida. plastic surgeon in Orlando, Florida. He offers what's known as the Mommy Makeover for new moms who would like to restore and rejuvenate areas on the body such as the abdomen and breasts that can lose their shape after pregnancy. Dr. Jon Paul Trevisani will customize your treatment plan using the most advanced techniques in plastic surgery to optimize your surgical results and minimize your recovery time so that you can attain that inner strength and self-confidence you were longing for.
The Mommy Makeover combines several of the most popular and effective cosmetic surgery procedures including breast lift, breast augmentation, breast reduction, and liposculpture. In addition Dr. Jon Trevisani often performs a tummy tuck in Orlando, Florida as part of the Mommy Makeover procedure. With the tummy tuck procedure, Dr. Jon Trevisani removes excess abdominal skin and fatty deposits to reveal smoother, trimmer, and more feminine contours. In addition, the procedure will tighten stomach muscles and thus reversing the effects that pregnancy can have on the abdomen. Dr. Jon Trevisani says patients who opt for a Mommy Makeover can also effectively reduce the appearance of stretch marks, a common concern for many women after giving birth. "Those patients coming here can feel comfortable that they're getting the best service available, we are committed to providing the highest level of quality care and concern for the individual, while maintaining absolute integrity and confidentiality". Women interested in flatter, more toned stomach after pregnancy are often excellent candidates for this procedure.
For women whose breasts have begun to droop or sag after pregnancy, Dr. Jon Trevisani offers the breast lift procedure as part of the Mommy Makeover that removes excess skin and restores the breasts to a more youthful appearance. "Often-times on evaluating those patients a breast lift is what really is indicated after having several children or breastfeeding." Breast implants can also be included as part of the breast lift in Florida to create fuller, shapelier curves in the breasts.
Dr. Jon Trevisani tailors the Mommy Makeover procedure to address each individual patient's specific concerns. Early signs of age and exhaustion can also affect new mothers. In this case, non-surgical treatments such as BOTOX® COSMETIC can be included as part of a Mommy Makeover to rejuvenate the skin and reduce the appearance of frown lines and wrinkles.
The Mommy Makeover is unique in its approach to provide comprehensive cosmetic treatment for new moms who wish to enhance their figures and improve their appearance after undergoing the physical side effects of pregnancy. And for new moms, the gift of having children doesn't have to come at the expense of looking and feeling great.
Dr. Jon Paul Trevisani, is board-certified by the American Board of Plastic Surgery, a Fellow of the American College of Surgeons, and is a member of the American Society of Plastic Surgeons, the Florida Society of Plastic Surgeons, the American Society for Aesthetic Plastic Surgery, and the American Medical Association. He has served the Central Florida area for over 14 years at his private practice near Orlando.
More information about this popular procedure can be obtained by contacting Dr. Jon Paul Trevisani at his office on 413 Lake Howell Road, Maitland, Florida, 32751, or by calling his practice toll free at 888-919-6398. More on Dr. Trevisani and the Mommy Makeover can also be found by visiting his websites, http://www.jptrev.com and http://www.usabreast.com.
###