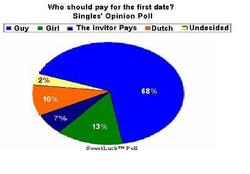 If a woman expects and behaves this way, then the date loses its luster and now it's just another bill or expense
New York, NY (PRWEB) October 13, 2009
As the end of summer winds down and singles everywhere start refocusing their energy on the important business of finding a mate, the lingering question on most singles' minds is who should pick up the tab on the night out. According to Martin Encarnacion, CEO & Founder of SweetLuck.com, a free online dating and social networking website, "men and women have different takes on who should pay for the date. What we found really interesting is that our poll shows that men who demonstrated chivalry and paid for the first date were more likely to be rewarded by women with second dates."
SweetLuck.com, a free dating site conducted an exclusive experimental poll, where three hundred singles were asked their opinion on who should pay for the first date. An overwhelming 68 % of the singles asked responded that the male should pick up the tab. As irreconcilable as it seems, another 13% said the female should, but at the same time they also stated that a second date was unimaginable unless the male picked up the check. 10% stated that the tab should be divided amongst the male and the female and only 7% agreed that the person who does the inviting should pay. The last 2% were undecided.
The new poll may actually make some feminist groups a little squeamish, but the fact is that despite the growing trend of equality among the sexes, the mental perspectives of many men and women when it comes to dating remain relatively unchanged. For example, women enjoy, have fought for, and will continue to fight for equality in all areas of our daily lives from equal employment opportunities to equal respect in competitive sports. But at the end of the day, it seems as if most women still ascribe to good old fashioned chivalry when it comes to dating.
To better understand the numbers of this free dating website, the results of the poll were taken to the streets of New York City, one of the largest single cities in the world to gain further insight to the debate over who should pay on the first date. The results were quite fascinating.
Women were asked if they agreed with the majority of the poll conducted by the free dating service that indicated that 68% of respondents believed men should pay and 13% believed that women should pay. Most women indicated that a man should certainly pay on the first date, not because of money, but because of the larger principle at stake. Women found that the act of picking up a tab was the reflection of how much appreciation the man lavished on his date. In other words, paying for dinner for some women was akin to performing a chivalry act, like opening her door or her date standing up when she walks into the room. It also helps the women to gauge whether her date is interested in her and is willing to make her feel special by treating her to a wonderful evening - on his tab.
Most women wanted to elaborate that this desire to have men pay helped them make a decision on whether to go on a second date. While most women are liberal in many areas of life and can certainly hold any job or make as much money as their partner, they still choose mates that compliment their style, personality, and beliefs and mates that have the ability to support them, if need be. As such, when choosing a mate, women tended to look for a man who can take the lead and show initiative. They want to feel that the person they are dating can protect and provide both emotional and financial support if the situation for such arises. Women want to know that "if they found themselves in any type of emergency, including those that are financial in nature, their mate can step up and provide a safety net," stated Mr. Encarnacion.
Believe it or not, this metric begins to be closely watched by females as earliest as the first date. According to the women of New York City, a man can demonstrate these qualities by handling small tasks like picking up the tab at the commencement of the courting process. With personalities clicking, conversations flowing, and a male that insists on picking up the check, a woman feels no hesitation enthusiastically accepting his invitation for a second date.
Now what about the 13% of respondents who believed that women should pay? "We asked about 100 women on the streets of NYC if they agreed that women should pay on the first day and about 28 of them agreed," said Mr. Encarnacion. Most of these women mentioned that a woman should pay to prove her independence and her true interest in her date. A woman who offers to pick up the tab indicates that she can take care of herself and is not on the date to meet a man to take care of her but to meet a man who compliments her and truly loves spending time with her rather than spending money on her. On the other hand, some women who pick up the tab often do so out of guilt. These women claim that if the date is not so great and the guy is really sweet and they want to let him down "easily," they will pick up the tab so as to not make matters worse the next day when she doesn't return his follow-up phone calls.
And what about the man's opinion? Surprisingly, of those men that believe women should not pay, they ascribe to the philosophy that paying most of the time during the courting stage is part of the dating game. They see it as a tradition that comes with the territory, especially during the first date; they nonetheless, tended to look very closely at their date's reaction during the pivotal moment that the check is delivered. Those men who believe they should pay suggested that they would have more respect for a woman that insisted or made the appearance that they would like to pay, even if the insistence was a bluff or the woman was just being respectful. "I particularly loved one respondent's response," said Mr. Encarnacion, "he said that 'it is culturally ingrained in men to pay for the meal.'" Perhaps that is the reason why most men are ready and willing to pay. As a matter of fact, some felt insulted if they were not allowed to fulfill this small part of the mating ritual.
On the other hand, this unwritten rule in the courting process may wreak more havoc than success on the online dating scene. "We know we have to pay but the mere notion that the female expects it makes it feel like we're obligated. And at that point, it's no longer a voluntary and chivalrous thing to do, but more like a requirement," claimed one of the respondents. This feeling in turn conjures up a lack of consideration on the woman's part and foretold future problems if a relationship was established with these types of expectations from the woman. "If a woman expects and behaves this way, then the date loses its luster and now it's just another bill or expense," the respondent went on to say.
Of those questioned about splitting the check both men and women agreed that if a date goes Dutch then it's no longer a date, its more like friends on a night out because the element of romance is lost. One female indicated that, "it's almost as if the male is no longer trying to impress and would rather treat the date as a casual encounter."
No matter what the sexes may think or how much society has changed, the SweeLuck.com poll results show that "women overall are old fashioned when it comes to courting and are very partial to males that do not rock the dating boat." They are not specifically looking to be taken care of financially but they nonetheless appreciate the financial first date gesture. While a minority of men may resist and even say that they rather go Dutch, our new poll found that they, for the most part, like to be able to "stand up and do the manly thing" even when society and popular culture paints a different picture altogether, concluded Mr. Encarnacion.
###