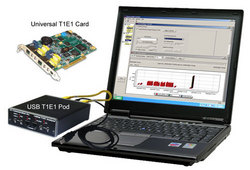 Typical examples include, continuous recording of protocol exchange on an SS7 interface, limited only by hard disk or network storage space; or triggering, collecting and filtering for unique subscriber information and relaying such information to a back end processor; or collecting CDR information for billing
Gaithersburg, MD (Vocus) October 13, 2009
GL Communications Inc. announced today the release of its enhanced ISDN, SS7, Frame Relay, and ATM Protocol Analyzers. Addressing the press conference, Mr. Vijay Kulkarni CEO of the company said, "GL carries a wide array of Protocol Analyzers for TDM, Wireless, and Packet networks. Based on a uniform architecture with identical features and functions, they can be used flexibly for a wide variety of applications, including:
•as independent standalone units for simple protocol interface analysis
•as remote or offline analyzers
•as "probes" integrated with network monitoring systems
•as network elements for advanced traffic collection and processing
He added, "Typical examples include, continuous recording of protocol exchange on an SS7 interface, limited only by hard disk or network storage space; or triggering, collecting and filtering for unique subscriber information and relaying such information to a back end processor; or collecting CDR information for billing".
Mr. Kulkarni further added, "The enhanced ISDN, SS7, Frame Relay, and ATM analyzers are significant addition to an array of GL's powerful protocol analyzers repertoire and would add considerable value to customers who are in the lookout of feature rich advanced protocol analyzers".
Enhancements to the Protocol Analyzers:
ISDN Analyzer
ISDN allows voice, data and video to be transmitted simultaneously and with end-to-end digital connectivity.
•GL's ISDN analyzers have been enhanced to support new protocols DASS2 and DPNSS
SS7 Analyzer
Traditionally voice and signaling were carried on the same circuit. SS7 separates the voice and signaling paths and permits faster and more reliable connections.
•GL's SS7 analyzer has been enhanced to support SS7 UK protocol standard. Also the IUP (BTUP) decoding layer has been updated. This also includes Call Trace implementation for BTUP
Frame Relay Analyzer
GL's Frame Relay Protocol Analyzer can be used to analyze and decode frames conforming to Q.921, Q.922, LAPF, Frame Relay Forum standard - FRF.12 and FRF.15, Multiple Protocol Encapsulation, LCP RFC1661, Q.933 SVC and LMI SNAP, PPP, IP, SMTP, POP3 and so on.
•The Analyzer has been enhanced to decode the FRF.12 and FRF.15 fragment that supports both UNI-NNI fragmentation and End-to-End fragmentation. In case of End to End fragmentation, branching has been done on the NLPID value to decode the fragmentation layer. In case of UNI and NNI fragmentation, the frame starts with the fragmentation header, followed by the Frame Relay header. First the fragmentation header will be decoded after that Frame Relay header will be decoded. If there is no fragmentation header then only Frame Relay Header will be decoded
•The Stream Interface Selection option has been updated to add/delete MFR bundles and frame relay links. In addition, multiple cards can be selected to capture the frames simultaneously in a single instance
ATM Analyzer
GL's ATM Analyzer is used to analyze and decode different ATM protocols like AAL2 Protocols (CPS-SDU, SSSAR-SDU, and SSCS), AAL5 (CPCS), and UNI across U plane and C plane of UNI and NNI interface.
•The analyzer has been enhanced to support decoding of OAM and IP payload over ATM
About GL Communications Inc.
Founded in 1986, GL Communications Inc. is a leading supplier of test, monitoring, and analysis equipment for TDM, Wireless, IP and VoIP networks. Unlike conventional test equipment, GL's test platforms provide visualization, capture, storage, and convenient features like portability, remotability, and scripting.
GL's TDM Analysis & Emulation line of products includes T1, E1, T3, E3, OC-3, STM-1, analog four-wire, and analog two-wire interface cards, external portable pods, and complete system solutions. Capabilities include voiceband traffic analysis and emulation across all traffic types (voice, digits, tones, fax, modem), all protocols (ISDN, SS7, GR-303, Frame Relay, HDLC, V5.X, ATM, GSM, GPRS, etc.), and with capacities up to thousands of channels.
GL's VoIP and IP products generate / analyze thousands of calls / traffic simultaneously with traffic types such as frames, packets, voice files, digits, video, tones, noise, and fax using G.711, G.729, AMR, EVRC, GSM and a range of other codecs. Additional features include visual analysis, real-time listening, and recording. The product line also includes Ethernet / IP Testing capability that simulates and checks frame transport and throughput parameters of Ethernet and IP networks, including delay, errors and other impairments.
GL's Voice Quality Testing (VQT) product line complements all of GL's products. Using ITU-standard algorithms (PAMS, PSQM, and PESQ), GL's VQT provides a widely excepted solution across the telecom industry. Voice Quality Testing across multiple networks (T1, E1, T3, E3, OC-3, VoIP, Wireless, and Landline) are all available.
GL's Wireless Products perform protocol analysis and voice quality assessment on GSM, CDMA and UMTS networks. Connections can be made to any wireless phone with automated call control, GPS mapping and real-time signal measurements.
GL's Echo Canceller testing solutions provide the broadest range of simulation and analysis, including compliance testing per G.168 and G.160 across TDM, IP, VoIP and Wireless networks. GL's wireless VQT solutions help assessing impairments to voice quality such as poor mobile phone quality, voice compression and decompression algorithms, delay, loss and gain in speech levels, noise, acoustic and landline echo, and other distortions are easily assessed and accurately measured.
GL's Handheld data testers can test a wide variety of communications facilities and equipment including T1, fractional T1, E1, fractional E1, T3 and E3 modems, multiplexers, CSU, DSUs, T1 CSUs, DTUs, NTUs and TIUs and more. The testers provide convenience, economy, and portability for almost any interface, including RS232, RS-422, RS-530, X.21, T1, E1, T3, E3, and many others.
GL's Network Surveillance and Monitoring products include Probes for TDM, IP, VoIP, ATM, and Wireless networks. An open standards based approach provides a scalable, feature rich, real-time access to network intelligence. Centralized or distributed access, efficient transport and database loading allow compatibility with 3rd party and standards based monitoring systems.
###