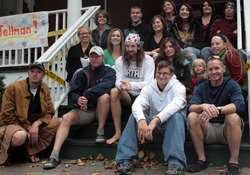 You took the time out of your schedule to share such a positive message with our youth. You are a brave soul and I wish you all the best on your journey.
State College, Penn. (Vocus) October 13, 2009
While sitting down for lunch with a handful of former and current residents of the Stepping Stone transitional living center here on Wednesday, Tellman Knudson announced that the next $10,000 he raises on his barefoot run across America will pay for an upgrade of the worn kitchen that surrounded him.
Knudson passed just south of here on Rte. 45 on October 4, simultaneously hitting the 300-mile mark of his 3,200-mile barefoot run across the country. He seeks to attract attention to the issue of homeless youth in America and raise $100,000,000.00 in aid. He left New York City on Sept. 9 and hopes to reach Los Angeles by mid-winter.
Knudson was greeted by a bright "Welcome Tellman!" banner at Stepping Stone before sharing a spaghetti lunch with a handful of residents and alumni, aged 18 to 20. During conversation, he learned about their program that stresses independent living skills. In turn, Knudson explained that he was homeless as a teen himself, but later started a successful internet marketing company that made him a millionaire.
Knudson's charity run, dubbed RunTellmanRun, has raised about $275,000 so far. He pledged that, starting October 7, the next $10,000 raised would go directly to Centre Country Youth Services Bureau to pay for new appliances, flooring and cabinets at Stepping Stone and Youth Haven, the sister shelter next door.
Kate Sager, Stepping Stone's program director, thanked Knudson Wednesday afternoon, saying, "You took the time out of your schedule to share such a positive message with our youth. You are a brave soul and I wish you all the best on your journey."
Watch video of Knudson and Stepping Stone residents discussing the upgrade at http://www.youtube.com/watch?v=I5-p_ZUb63w&feature=player_profilepage.
Knudson's progress as he runs across America and visits other shelters can be tracked on the RunTellmanRun website. Donations are welcome at http://www.runtellmanrun.com/donate
About Stepping Stone:
Stepping Stone is operated by the Centre County Youth Service Bureau and is primarily funded by federal grants. Its staff provides in-house life skill training in workshops that include career planning, money management, relationships, communication, job skills, health issues and housing. Stepping Stone is licensed by the Department of Public Welfare to provide services to males and females between the ages of 16 and 21. Youth who are accepted into the program can receive residential services for up to 18 months.
About Covenant House:
Covenant House is a major beneficiary of RunTellmanRun. Founded in 1972, Covenant House is the largest privately funded agency in the Americas helping homeless kids, providing crisis care and ongoing support at 21 facilities internationally. For more information, visit http://www.covenanthouse.org, or visit http://www.NINELINE.org or call the Covenant House NINELINE (1-800-999-9999).
About Tellman Knudson:
Tellman Knudson, 32, is a serial entrepreneur who has had great success in internet marketing. He is CEO of OvercomeEverything, ListBuildingClub and several other ventures. Tellman overcame femoral antiversion, a debilitating leg condition, to compete on his high school cross country running team, setting several school records and competing for the New Hampshire state championship. Tellman learned to leverage his ADHD, a condition that hinders many, to his creative and financial benefit. He has even been CEO of a busy hypno-therapy practice. Tellman resides in Vermont with his wife and long-time partner, Jodi Meehan, and toddler son, Torger.
About RunTellmanRun:
Tellman Knudson seeks to be the first person to run across America barefoot. He began his 3,200-mile journey in Battery Park, New York on September 9 and hopes to reach the Santa Monica pier in Los Angeles, Calif. by mid-winter. Knudson plans to raise $100,000,000 for homeless youth. http://www.runtellmanrun.com.
Sponsors:
RunTellmanRun is fortunate to have the generous financial support of:
Maverick Business Adventures® creates unique, once-in-a-lifetime experiences exclusively for entrepreneurs and CEOs. It's for the small group of top-gun achievers who want to live life to the fullest, produce business breakthroughs and give back to young & aspiring entrepreneurs through charity and education. http://www.maverickbusinessadventures.com.
The Genius Network is a massive collection of one-on-one business how-to interviews with brilliant, successful marketers who share their business secrets to give small business owners and aspiring entrepreneurs the ability to increase earnings and put fun back into business. http://www.geniusnetwork.com
CONTACT:
Luke Q. Stafford, On-the-Ground PR Super Ninja
802-275-2749
###