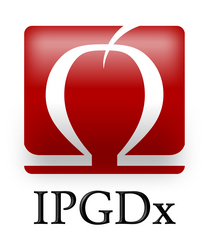 PrognostiCheck® is a scoring system that interprets a measured electrical value that illustrates the health of the cell membrane
Harrisville, MI (Vocus) October 13, 2009
IPGDx, LLC, a MI based medical technology company's product PrognostiCheck® uses phase angle from impedance analysis to detect the presence and severity of breast cancer, the effectiveness of treatment and survival of breast cancer patients who have the disease.
A recent study of 259 breast cancer patients, 81 that were newly diagnosed, 178 that had received prior treatment; 56 with stage I disease at diagnosis, 110 with stage II, 46 with stage III and 34 with stage IV. Their ages ranged from 25 to 74 years old. The median phase angle was 5.6 degrees. Patients with phase angle less than or equal to 5.6° had a median survival of only 23.1 months, while those greater than 5.6° had 49.9 months.
"PrognostiCheck® is a scoring system that interprets a measured electrical value that illustrates the health of the cell membrane" said Michaeal G. Singer, President of IPGDx, It can be used to provide critically important information to patients, their families and physicians on survival in breast cancer and all other diseases. Knowing is better than not knowing; as how to spend time and where to spend resources is critical."
PrognostiCheck® can:

Detect the presence of illness at its earliest occurrence so the patient can seek care, treatment can begin sooner and be more effective
Characterize the severity of illness to alert the physician and better allocate resources
Evaluate the effectiveness of treatment and allow it to be changed or optimized for the needs of the individual patient
Illustrate the individual patient's 'Frailty'; the cumulative effect of all the events and conditions that brought the patient to where they are right now
Confirm where the patient is on the trajectory of their illness, if what is being done is working and if recovery is possible
Objectively support the transition from curative or restorative goals to palliative care
Be used right now!
"The measurement of phase angle includes the combined effects of the body's fluids and cells; specifically the cellular membranes of the human body. Changes in cell membranes take place at a very early level of how the body is organized, happening before changes in blood studies, imaging techniques and examination. By measuring these values PrognostiCheck® reports information heretofore not available to patients, families and their physicians. Lower phase angle values indicate illnesses by seeing cell death or decreased cell integrity, while higher phase angle values indicate more intact cell membranes and a healthier person," said Singer.
While a diagnosis can almost always be made, treatment is always given but prognosis is seldom known. Statistical reports and evaluation of even all the variables don't illustrate what an individual patient will experience. Each patient should be considered individually and evaluated dynamically, over time as changes occur (disease progresses, treatment works (or not)). The Company found that even the most educated and experienced clinicians' prognosis is wrong eight out of ten times; which is why they are rarely given. Consider what your own experience has been for yourself or your family; has it been satisfying or not; could it have been made better?
"In breast cancer the severity of the disease can be seen and reported by PrognostiCheck® and guide the patient to the level of care they need sooner and easier; the test can even be done at home," said Dr John Kutzko, COO of the Company. "The PrognostiCheck® results come from a simple noninvasive test that is quickly done has no side effects and is easily repeated to show change over time. It is especially sensitive to changes and precise with nearly perfect test; re-test reliability; (0.98 out of 1). The device used for the test is an FDA 510(k) approved Class II medical instrument. PrognostiCheck® is a 'Biometric Scoring System' in a software program, not a medical device and not regulated by the FDA. The test is inexpensive to complete (~$5.00), takes just a few minutes and the professional instrument cost is $3,500.00. The Company, IPGDx, LLC is now ready to sell and support the use of the 'Professional PrognostiCheck® System' and is seeking funding to build a 'Consumer' or home device next year."
More information including a bibliography of publications in various diseases is available on the Company's website at http://www.ipgdx.com or email the Company at info (at) ipgdx (dot) com.
About IPGDx:
The Company is six years old and holds exclusive license to the patents from inventors Singer & Kutzko with offices in FL and MI.
###