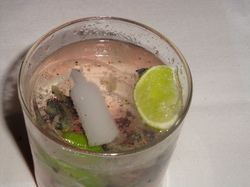 Ice Caters has shattered the old myths about ice sculptures by developing a complete solution that makes it not only possible, affordable and easy to use ice for promotion, but essential for core brand marketing
Atlanta, GA (Vocus) October 13, 2009
The iMi Agency, a leading developer of food and beverage promotion programs for chain on-premise hotel and restaurant operators across the United States and Ice Caters, the pioneer developer of "Ice and Easy" shippable ice in a box products, announce a new alliance to combine their respective expertise to develop and offer new beverage promotion programs with a real ROI.
"Ice Caters has shattered the old myths about ice sculptures by developing a complete solution that makes it not only possible, affordable and easy to use ice for promotion, but essential for core brand marketing," said Don Billings, iMi Agency, President-Owner and Publisher of "in the Mix" magazine, "There is tremendous opportunity for operators to drive sampling and sales at the unit level by adding Ice Caters "Brand ICE" into the mix.
"Creativity no longer has to be limited by cost and logistics of using ice to attract attention and build brands on-premise," said Ice Caters CEO and Founder, Michael Shoer. "We're now able to deliver unmatched powerful brand impressions with logoed cocktail ice, branded bottle displays and luges, individual iceware servers and bottle chillers with beverage promotion support from the leaders in hospitality on-premise channel business building."
"I am so convinced that I am willing to cover the cost of product for qualified on-premise promotions over the next 30 days," said Shoer. "All we ask is that the client commit to provide us with adequate sales tracking and performance data within two weeks of the promotion. http://www.icecaters.com/ccp0-display/Landing-Beverage.html
Ice Caters (http://www.icecaters.com) is an Atlanta-based company that distributes its manufactured packaged ice designs primarily to commercial buyers and resellers nationwide through regional distribution hubs and local ice companies under the brands Ice Caters® Ice and Easy®, Brand ICE™, and offers custom event installations and traditional ice supplies under the BIG Event Network™ and Ice ONE Source™.
The iMi Agency (http://www.imiagency.com) is an Atlanta-based agency strategically aligned with the best of the best service providers in the industry to deliver increased sales and profits through creative, cost-effective, ROI delivering programs and promotions. The company also publishes the highly regarded beverage industry marketing magazine, "in the Mix" (http://inthemix.on-premise.com/).
###