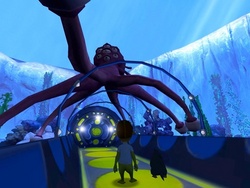 With its thrilling alien environments and massive multiplayer support, Planet 51 Online is certain to excite players of this unique universe
Eningen, Germany (PRWEB) October 13, 2009
Trinigy, an industry leading 3D game engine provider with over 100 licensees and offices in Germany and Austin, TX, continues to expand its business with a new deal to develop an online version of Sony Pictures Entertainment's Planet 51 animated film produced by Zed Group's sister company, Ilion Animation Studios. Zed will use the latest version of Trinigy's Vision Engine to accelerate development and real-time rendering of the unique alien world found in the online gaming universe.
Planet 51 is a reverse alien invasion story centered on the "people" who inhabit Planet 51 and who live in fear of being invaded by beings from another planet. The movie and console version of the game will both release in November of 2009. Zed's online gaming universe is slated for launch in November 2009 as well.
"We have been working with Trinigy for many years now on a wide range of projects," said Christopher Head, director of production innovation at Zed. "Trinigy has proven time and again that its flexible game engine is the premiere development platform for console and online games alike. Coupled with Trinigy's superior support and thorough understanding of our technical needs, we could not ask for a better technology partner for a game as high-profile and important as Planet 51 Online."
"With its thrilling alien environments and massive multiplayer support, Planet 51 Online is certain to excite players of this unique universe," said Dag Frommhold, managing partner at Trinigy. "As always, we've thoroughly enjoyed working with the talented team at Zed on this project and employing our flexible technology to bring this game to life."
For more information on the Vision Engine and its support for MMOs of all types, visit http://www.trinigy.net. Visit http://www.planet51online.com for more information on the game. Or click here to see a trailer.
About Trinigy
Based in Southern Germany and Austin, TX, Trinigy is a privately owned company committed to providing groundbreaking game engine technology and first-class support to video game and serious game development studios across the globe. Engineered to provide more creative and technical freedom, the company's Vision Engine is currently in use in more than 100 commercial game productions by well-known companies such as Ubisoft, Take 2, Dreamcatcher, NeoWiz, Spellbound, Robot Entertainment, Nitro Games and more.
The Vision Engine has proven its versatility in a multitude of game genres, including real-time strategy, racing, first-person shooters, role-playing games and massively multiplayer online (MMO) games. It is available and optimized for performance on PC (DX9, DX10), Xbox360™, PLAYSTATION®3, Nintendo Wii™, XBLA™, PSN™ and WiiWare™.
For more information about Trinigy, its Vision Engine or its technology partners, please visit: http://www.trinigy.net.
About Zed
Zed develops and markets entertainment and community products and services for mobile and the Internet. The company is the leading mobile value-added services (MVAS) player in the world in terms of revenue and geographical footprint. Zed operates in 55 countries, including Europe's largest markets, USA, India and China and holds agreements with 130 wireless operators all over the world.
For more information visit: http://www.zed.com.
###