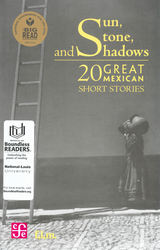 On the flip side, strong readers earn more, vote more, and have more rewarding career opportunities
Chicago, IL (PRWEB) October 13, 2009 -
It's a simple idea, really, but one with a lofty goal. Pick a great book of Mexican short stories, present in it in a variety of ethnically relevant and exciting ways, and restore reading to center of the Latino culture.
That's the approach co-sponsors Boundless Readers and National-Louis University (NLU) are taking for The Big Read 2009, Chicago Style, which was made possible by a grant from The National Endowment for the Arts (NEA). Each year, the NEA awards 268 national nonprofit organizations with grants to host The Big Read programs, and allows them to choose one book from a 30-book selection of U.S. and world literature. Boundless Readers and NLU chose Sun, Stone, and Shadows: 20 Great Mexican Short Stories edited by Jorge F. Hernandez.
Chicago-based Boundless Readers, formerly known as the Rochelle Lee Fund, applied for grant as part of its mission to develop passionate, lifelong readers of children so that they not only know how to read, but read frequently, widely and willingly.
"We're extremely excited about our plans for The Big Read 2009, Chicago Style," says Mary Hicks, Executive Director of Boundless Readers. "Reading for pleasure is on the decline across all age groups and all ethnicities. And the academic, economic, social and political affects are demonstrable," she says. "On the flip side, strong readers earn more, vote more, and have more rewarding career opportunities," she adds. "That why it's so important that we utilize programs like The Big Read to engage parents, through teachers, to become active participants in their children's literacy development."
"We selected Sun, Stone, and Shadows for a number of reasons," says Ana Maria Soto, Executive Director, Latino Initiatives for National-Louis University, which is Boundless Readers' library partner and co-sponsor of The Big Read 2009, Chicago Style. "First, the book, which is available in Spanish-language translation, will have widespread appeal to the Latino community. Second, of the 1.5 million Latinos living in the Chicagoland area, 1.3 million are of Mexican descent making us the largest ethnic group in the Chicago area," she adds.
According to Soto, The Big Read 2009, Chicago Style, is closely tied to NLU's landmark Proyecto Comunidad initiative to create the next generation of Latino school, civic and business leaders by strategically removing barriers often found on the path to higher education. "Our population is expected to double over the next 30 years, and as we continue to grow in numbers, we must continue to make education a top priority," says Soto.
The Big Read 2009, Chicago Style, will launch on Oct. 22, 2009 with a Kick-Off Celebration at NLU Chicago campus. Open to the public, the celebration will bring together all who support the initiative. The NLU Library's The Americas Collection, the collected works of bilingual, Spanish and Latino-themed children's and young adult books, will be on display; America Baita folk dancers will perform; and La Justicia will cater. Ambassador Manuel Rodriguez-Arriaga, Consul General of Mexico from the Chicago Mexican Consulate, will be among local dignitaries attending and providing remarks.
Also planned is "Sol piedra y sombras," a panel discussion facilitated in Spanish by contratiempo, a Chicago-based nonprofit literary and publishing center. Local Latin American writers discuss how Mexican short stories have influenced their own narrative. The panel discussion, open to the public, will take place Oct. 24 at the Lozano Branch Library in Little Village.
On Nov. 14, a stage dramatization and poetry performance is planned called "Arrieros Somos." The event will include featured performances by local actors of stories from Sun, Stone, and Shadows and of short stories by Chicago writers and poets. contratiempo, will facilitate the performances at Old Town School of Folk Music. The public is encouraged to attend.
More than 100 book discussion groups titled "Engaging with Sun, Stone, and Shadows" will be conducted in English and Spanish throughout Chicagoland during October and November at Chicago public schools, Chicago Public Library branch libraries and other locations. Everyone is welcomed to join parents, students, teachers, administrators and community members to explore Sun, Stone, and Shadows: 20 Mexican Short Stories in facilitated discussions.
Anyone interested in facilitating a discussion about Sun, Stone, and Shadows can attend Facilitator Training on Sep 30, Oct 6, 8, 13 and14 when Boundless Readers shares its expertise in leading book discussions with volunteer book group facilitators.
For additional information and details about any of The Big Read 2009, Chicago Style events including locations, addresses, dates, times, or to reserve space to attend, go to http://www.boundlessreaders.org or send an email to bigread@boundlessreaders.org.
About The Big Read
The Big Read is an initiative of the National Endowment for the Arts in partnership with the Institute of Museum and Library Services and Arts Midwest. It is designed to revitalize the role of literature in American culture and bring the transformative power of literature to more people. For more information, visit http://www.neabigread.org.
About National-Louis University
National-Louis University has been a force for change in American education since its founding in 1886. Known for nearly a century as the National College of Education, it is still nationally renowned today not only for its programs in teacher preparation, urban education and educational leadership, but as one of the first universities to address the unique needs of adult learners. Today, NLU offers a range of undergraduate and graduate
degree programs in the National College of Education, the College of Arts and Sciences and the College of Management and Business. NLU's campuses are located in downtown Chicago; Lisle, Skokie, Wheeling and Elgin, Ill.; Beloit and Milwaukee, Wis.; Tampa, Fla. and Nowy Sacz, Poland. For more information, visit http://www.nl.edu.
About Boundless Readers
Chicago-based Boundless Readers, formerly called the Rochelle Lee Fund, is a 501(c)3 nonprofit organization. For more than 20 years, Boundless Readers has dedicated itself to unleashing the power of reading in children. By building the capacity of Chicago public schools and teachers through its professional development programs and resources, Boundless Readers transforms students into passionate lifelong readers, learners, and thinkers. For more information about Boundless Readers, visit http://www.boundlessreaders.org.
# # #