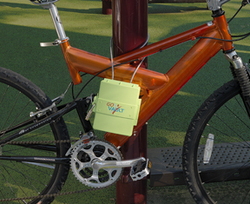 Once closed and locked, the contents are protected until you are ready to go
Davenport, Iowa (PRWEB) October 14, 2009
Twin State Design Products, LLC. today announced the national introduction of its new GoVAULT™ line of personal portable safes designed for the active youth, sports, outdoor and young adult lifestyle markets, according to Mr. Stephen Huber, company president. "Our new portable safes are great for today's active and mobile youth and young adults. It gives both boys and girls a safe place to store their personal valuables like mobile phones, iPods, digital cameras, identification, credit cards and cash while they are playing or traveling. They are a great addition to a backpack or gym bag, giving you a secure place for your valuables when you're on the go", Huber said.
The new GoVAULT™ portable safes are manufactured from strong ABS plastic and are impact resistant. Each GoVAULT™ has a detachable coated-steel cable, the kind used to secure laptop computers, that can be easily looped around a bag strap or stationary object and then both ends re-inserted into the safe. The 5" x 7" x 3" safes are weatherproofed for outdoor use.
"Once closed and locked, the contents are protected until you are ready to go", Huber added.
The GoVAULT™ personal safes are attractively designed in four colors - silver, pink, blue and lime green. The user can customize their personal safe with a range of padlocks. For overseas backpackers and airline travelers a TSA-approved padlock is recommended. The GoVAULT ™ is a great gift idea and it likely to quickly become an indispensable safety enhancement for any active young person who wants convenient security for their valuables.
Look for the GoVAULT™ personal safes at major retailers and college bookstores in time for the 2009 holiday and school-vacation seasons. They are attractively priced. GoVAULT™ - Mobile, Agile. Simple. Secure. http://www.mygovault.com/
Twin State Design Products, LLC., headquartered in Davenport, Iowa, is an industry leader in the design, manufacture and distribution of personal vaults for the youth, college and active young-adult markets in the United States and globally. The company's core product lines include the DormVAULT® tempered steel personal valuables and laptop safes for the college-age markets http://www.dormvault.com and now the GoVAULT™ line of impact-resistant, case-hardened lightweight personal portable safes for youth sports, outdoor and young-adult lifestyle markets.
For further information, please contact:
Mr. Stephen Huber
Twin State Design Products, LLC.
563 940 7462
http://www.mygovault.com
# # #