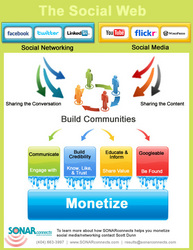 SONARconnects has a heavily-referred track record of success in the social media realm
Alpharetta, GA (PRWEB) October 14, 2009
SONARconnects announced today it was chosen to be the social media agency of record for the Lenny's Sub Shop franchises. SONARconnects will develop, execute and leverage the social media strategy for the 160+ restaurant franchises nationwide, including writing and posting blogs, developing and distributing tweets, and managing the company's Facebook and LinkedIn accounts.
"SONARconnects has a heavily-referred track record of success in the social media realm," said Holly Baker, director of marketing, advertising and public relations at Lenny's Franchisor. "Lenny's Sub Shop continually strives to exceed our guests' expectations, and SONARconnects will enable us to reach them in a rapid, highly-effective and cutting edge manner."
While the basics of selling remain the foundation for SONARconnects' advertising and marketing efforts, the organization has cornered the social media market with a strategic format for turning marketing tactics into dollars. SONARconnects creates content for clients and helps them build trust and communities within their target markets. These efforts are monetized when the content is distributed through social media outlets.
"Our diverse client base that ranges from hospitals and medical personnel to restaurants to lawyers demonstrates our ability to leverage our social media strategy into almost any industry," said Scott Dunn, president at SONARconnects. "Our expertise at incorporating traditional communications tools into this new world of social media gives our clients a leg up when it comes to building their brands and increasing visibility."
About SONARconnects:
SONARconnects is a total communications agency offering traditional advertising and marketing services, social media marketing and social media training. The organization prides itself at being the expert in every phase of the new marketing scene. The basics of selling are still the company's foundation, but its knowledge of the new Social Media sets it apart. Blogs, micro-blogging, pod casts and video can help clients connect and build relationships with their customers. For more information, visit SONARconnects Website
About Lenny's Sub Shops:
Since the beginning, Lenny's commitment to quality and attention to detail has gone into every restaurant and sub sandwich. This dedication has helped Lenny's to become one of the fastest growing sub sandwich chains in the country. Today, Lenny's Sub Shop continues to expand throughout the United States by offering franchise opportunities. Authentic Philly Cheesesteaks & The Deli Fresh Experience™ are reasons why our loyal guests say they prefer a Lenny's sub hands down to our national competition. Why? Lenny's puts back what has been missing in the sub sandwich business--More Food, More Taste, More Personality!® Lenny's Sub Shop.
###