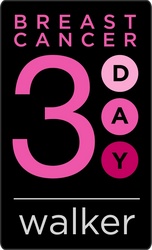 The community support has been amazing
Clearwater, FL (PRWEB) October 14, 2009
In honor of Breast Cancer Awareness Month, Joe Vumbaco III, owner of Soakin' Joe's Detailing in Clearwater, Florida, is offering a premium "Exotic/Show" car detail package to be auctioned to the highest bidder on Ebay starting 10/10/09 The auction can be found at : Ferrari for Breast Cancer
Why? Joe hates breast cancer and wants to do something about it. You could say he's putting his polishing pad where his mouth is.
Proceeds from the auction will be donated to The 3-Day 3 Day Org, a three-day, 60-mile walk in support of the fight against breast cancer. The city of Tampa will host the event starting Friday, October 30, 2009.
"I was talking with a customer about how inspirational The 3-Day walkers were. I wanted to make a difference, too," Joe said. "And then it hit me: I can make a difference doing what I do best: giving the best auto detailing anywhere!"
The Details on the Detail
A Soakin' Joe's premium "Exotic/Show" detailing is no mere car wash. In fact, the package is valued at $1000. Depending on the car's condition, it can take 10 to 100 hours to complete, with the majority taking approximately 20 hours.
The ultra-intensive detailing covers the entire vehicle, inside and out, including: extensive paint reconditioning/swirl/scratch/oxidation removal, premium polish and wax, engine detail and polish, wheel removal for detailing, along with fender wells, brakes, and suspension.
Given the worldwide reach of Ebay, Joe and his detailing pros are willing to travel to any location to complete the job (provided travel and business expenses are covered). However, the location must have a vehicle lift and necessary drainage and power supply, along with a sufficient air compressor.
Companies Inspired by Soakin' Joe's
Word has spread about Joe's passion to make a difference, inspiring other companies to donate great products and services to the cause. So in addition to the premium auto detailing, the winner of the auction will also clean up with a carload of cool and unique products. From all-natural aromatherapy soaps and scrubs to delicious dessert wines to designer sunglasses, the list of donors and products grows every day.
"The community support has been amazing," Joe said. "Together we can make a difference."
Get Auction Updates
The DJs from the "Maximum Motoring" radio show are promoting the event at every break for absolutely no charge. You can listen to the show every Wednesday and Friday online from 10:00 am-11:00 am here: Maximum Motoring
List of Participating Companies
Natural Aromatherapy Body Care - Body Care Gift Basket
Marketing - It's What We Do TRG - Video / Sponsors
http://www.asibemagazine.com The Star Power Magazine of Tampa Bay - T-Shirt & Hat Swag Set
abazias.com - Diamonds and Jewelry - 1/2 ctw Round Brilliant Diamond Studs in 14ct
620wdae.com/pages/ron_ian.html - Ron Diaz & Ian Beckles Sports Animal
soakinjoes.com Luxury Auto Detailing Clearwater Tampa - Exotic/Show Car Detail
jibidee.com Jibidee is the place to get organized - Free 1GB storage and 12 month Sub
snazzybuys.com Designer goods meets Wholesale Prices- Armani sunglasses
wineharvest.com - Wesley Chapel Store -Wine Gift Basket
gearheadshampoo.com - A Case of Custom Gear Head Shampoo
maxmedia.com - Press Release
Maximum Motoring - Air time to promote auction
Art Tavoularis - Buy It Now Wholesale Inc. - Ebay Auction & Design
Rachel Sokol - Creative Writer NYC
*Look for more products as they become available from generous donors.
About Soakin' Joe's
Soakin' Joe's Detailing & Window Tinting is located in Clearwater, FL, and operated by Joe Vumbaco III. For more info contact: http://www.soakinjoes.com
Media Contact:
Ryan Ford
Tyler Ryan Group
813.909.9191
# # #