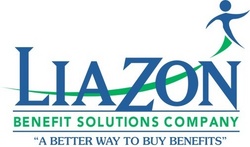 Our goal with the Solution Center is to continually provide Peachtree Business Analytics users with access to services that are proven to help them mature and achieve improved financial performance
Buffalo, NY (Vocus) October 13, 2009 –-
Ashok Subramanian, Liazon President and co-Founder, announced that Liazon is the exclusive employee benefits savings solution in the recently-released Solution Center feature for users of Peachtree Business Analytics - Powered by iLumen. Peachtree Business Analytics is a portal available to users of Peachtree by Sage accounting software. Liazon will conduct a "Controlling Employee Benefits Costs" webinar for Peachtree Business Anayltics users on Thursday, October 15, 2009 at 1:00pm EDT. Liazon is a consumer-centric employee benefits company.
Currently available as a free service to Peachtree by Sage accounting customers (2008-2010), the new Business Analytics Solution Center provides seamless access to solutions that help small businesses grow, manage cash flow, and control expenses. iLumen selected the participating solutions providers based on their understanding of small to medium-sized businesses and their ability to help improve performance areas identified through the Business Analytics portal.
Liazon provides small business owners with a complete benefits management solution that:
addresses double-digit benefits cost inflation and helps small businesses create a predictable long-term benefits budget with an annual defined contribution strategy; solutions can include full health coverage (with free preventive care) at extremely competitive rates
offers employees a Fortune 500-level array of health, financial, and protection plans, including multiple health plans, ranging from traditional co-pay plans to HSA-qualified consumer-driven options; a health savings account (HSA) for those who choose an HSA-qualified health plan; several dental options with multiple tiers of coverage, and vision, long-term care, life, disability, and other supplemental insurance policies
empowers employees to become informed benefits consumers with its Bright Choices online consumer portal, which provides all the tools, tutorials, and transactions to help enrollees effectively create, manage and use personalized benefits portfolios
off-loads all benefits administration
"Our goal with the Solution Center is to continually provide Peachtree Business Analytics users with access to services that are proven to help them mature and achieve improved financial performance," stated Michael Canzian, iLumen President and Chief Operating Officer. "Liazon fills an important niche, as employee benefits can often prove a hurdle to optimizing financial performance. Liazon's consumer-centric benefits solution lowers benefits costs and helps employers gain control over future benefits expenses," he concluded.
"We're pleased to have our consumer-centric benefits solution selected by iLumen as the sole employee benefits savings option in the new Peachtree Business Analytics Solution Center," stated Mr. Subramanian. "Liazon's Bright Choices program lets employers better control and budget their benefits costs by allowing them to define the amount they're willing to contribute to benefits, while it provides employees with an extensive array of cost-effective health, financial, and protection benefits from which to select," he continued. "The Bright Choices program lets employers spend what they can afford and employees buy what they need," Mr. Subramanian concluded.
About iLumen
iLumen Inc. provides technology to capture, standardize, analyze and distribute company financial data in order to solve critical problems in risk management, relationship management and financial oversight within the banking, accounting corporate , and small business environments. iLumen's services are based on a proprietary business intelligence and data mapping engine that delivers clean, accurate and timely customer data to enable efficiency, customer intelligence, and competitive advantage . For more information visit http://www.ilumen.com or call 888-663-8003.
About Sage North America
Sage North America is part of The Sage Group plc, a leading global supplier of business management software and services. Sage North America employs approximately 4,100 people and supports 2.9 million small and medium-size business customers. The Sage Group plc, formed in 1981, was floated on the London Stock Exchange in 1989 and now employs more than 14,500 people and supports more than 5.8 million customers worldwide. For more information, please visit the website at http://www.sagenorthamerica.com or call 866-308-2378.
About Liazon
Liazon helps small business owners control benefits costs, increase employee satisfaction with their benefits, and eliminate the burden of benefits administration. Since opening its doors for business in early 2008, Liazon has partnered with 1,100 small employers (2-1,000 employees) nationwide to provide benefits to 7,000 employees. Additional information is available at http://www.liazon.com.
###