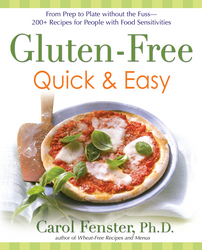 Recent research shows that 25 million Americans shop for gluten-free food. But buying food that is safe for their diet is just part of the challenge; they need time to prepare that food into meals that keep everybody healthy
Denver, CO (PRWEB) October 14, 2009
Today's busy families constantly juggle the competing demands of school, extracurricular activities, and family life---"and that makes it hard to get a healthy dinner on the table," says Carol Fenster, "especially for the growing numbers of families who must avoid gluten---a protein in wheat and related grains like barley, rye, and spelt.
"Recent research shows that 25 million Americans shop for gluten-free food. But buying food that is safe for their diet is just part of the challenge; they need time to prepare that food into meals that keep everybody healthy," says Fenster, author of Gluten-Free Quick & Easy (Avery, 2007), a cookbook designed to minimize time in the kitchen for gluten-free families.
Her 20-plus years on a gluten-free diet taught Fenster some major strategies that she uses throughout the book:
(1) Shorten ingredient lists. Use a single, flavor-intensive ingredient to replace several ingredients. For example, make Black Bean Soup from store-bought Mexican salsa (which contains all the necessary seasonings), chicken broth, and canned black beans rather than chopping and measuring all the usual ingredients.
(2) Minimize effort. Assemble homemade gluten-free mixes ahead of time and store them in the pantry. When you want bread or cakes or cookies, just add the liquid ingredients and bake. This saves money and hours of kitchen time, especially important on busy week nights when you have a limited amount of time to fix a healthy, home-cooked meal.
(3) Maximize meals. Make one cooked meal do double duty. Roast enough chicken for two meals, freeze the extra pieces, and use them later in the week for soups, sandwiches, or casseroles. Fenster cross-references recipes throughout her book so preparation for last night's menu shaves precious time off tomorrow's breakfast or lunch--- or next week's dinner, with recipes that build on what she creatively calls "planned-overs."
(4) Make appliances do the work. "Slow-cookers simmer soups and stews for you; food processors blend dough faster than electric mixers," says Fenster. "Start French bread to bake in a cold oven (rather than using precious time in preheating) to have hot, fresh bread in about 35 minutes."
For more information on cooking without gluten because of food allergies, celiac disease, or autism visit http://www.glutenfree101.com. Or see http://www.GfreeCuisine.com for Fenster's weekly online menu planning service.
# # #