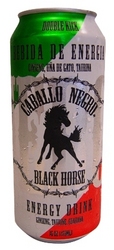 Caballo Negro fills an important niche in our product portfolio
San Diego, CA (PRWEB) October 13, 2009
Caballo Negro Energy has finalized a beverage distribution agreement with Mussetter Distributing, Inc. of Auburn, California.
With this partnership, Caballo Negro 16 oz. will be available to energy drink consumers in more than 1500 retail outlets in Northern California's Placer, Nevada, Sierra, Sacramento, Yolo, and El Dorado counties. Mussetter Distributing specializes in relaxation, energy, and new age beverages, as well as domestic, import, and craft beer.
"Caballo Negro fills an important niche in our product portfolio," said General Manager Jason Mussetter. "It gives us a relevant product for Hispanic energy drink consumers--a rapidly growing demographic for whom beverages like this are in high demand."
For Caballo Negro Energy, which changed ownership and management in May, this new distribution agreement represents an important expansion into key target markets, and an aggressive step forward in meeting the company's ambitious sales and operation goals for 2009.
"Since re-launching the Caballo Negro brand this year, we continue to see a very high level of demand for the product," said Jorge Olson, Brand Manager and Acting VP of Sales and Marketing. "We anticipate a highly profitable partnership with Mussetter Distributing and look forward to providing aggressive sales support to generate even more consumer demand as they introduce the beverage in Mercados, Hispanic accounts and retail outlets across Northern California."
About Caballo Negro Energy
Caballo Negro Energy, headquartered in San Diego, California, is led by an experienced and highly enthusiastic leadership team with the right combination of skills and market savvy to ensure that the product quickly achieves leading status in its segment. Caballo Negro Energy Drink was designed to appeal to Hispanic - Latin energy drink consumers, both in taste as well as brand design. (It took more than a year and countless consumer preference tests to perfect the unique Caballo Negro taste.) Due to its ultra high energy content, the brand has proven equally appealing to a diverse consumer base. For more information, visit the Caballo Negro web site at http://www.drinkcaballonegro.com
Media Contact:
Jorge Olson
Brand Manager
(619) 852 6942
###