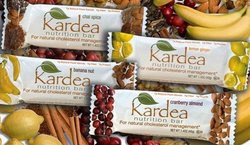 Top Gear of the Year Award
Hamden, CT (PRWEB) October 14, 2009 -
Kardea Nutrition's gourmet nutrition bars received "Top Gear of the Year Award" in the health and fitness category from Shapeyou.com.
The Kardea bar combines gourmet taste with balanced, natural nutrition. Each Kardea bar delivers 7 gram of protein, 7 gram of fiber and 1 gram of cholesterol-lowering plant sterol. With only 150 calories and low sodium levels, these bars also are suitable for individuals managing not only cholesterol, but also hypertension and diabetes.
The ShapeYou.com GearAwards™ were established by health and fitness professionals to recognize outstanding products in the industry. The GearAwards are judged by a team of trainers, coaches, competitors, nutritionists, health care practitioners, industry writers, gym owners and sports, health & fitness retailers. Kardea is honored to meet the high standards of the Gear Awards for four Kardea bars.
The GearAward represented another in a series of endorsements from both health professionals and consumers. "I tried a Kardea bar and was completely amazed," says Dina Aronson, a nutrition consultant and author of the VeganRD.com. "Then I tried the other flavors and was totally blown away. The Kardea bar is ideal between meals. It's got a healthy dose of fiber and protein and exceptionally yummy flavor".
Kardea Nutrition was founded in 2007 with the goal to develop a system of natural, great tasting products that help optimize cardiovascular health and deliver therapeutic nutrition particularly as it relates to cholesterol management. Cardiovascular diseases remain the leading cause of death and disability in the United States.
"I am baby boomer," says the company's founder, Rob Leighton. "Our generation brought natural foods and gourmet foods together. We now need to think about how these great tasting, natural foods can therapeutically support healthy aging."
Kardea develops its formulations to facilitate the therapeutic dietary recommendations of the National Cholesterol Education Program of the National Institutes of Health. The Kardea Nutrition bars are the first products brought to market. The bars are available at selected Whole Foods Markets, GNCs, Nordstrom's coffee bars as well as leading regional natural and health foods stores across the United States.
# # #