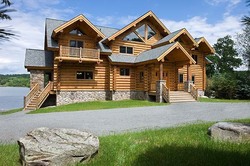 Expanding our offerings of custom log homes to Europe will fill the interest Estemerwalt has received from families, builders and developers in European countries
Honesdale, PA (PRWEB) October 14, 2009
As competitors across the board are announcing layoffs, or even closing their doors permanently, leading log home manufacturer Estemerwalt Log Homes continues to grow successfully, most recently announcing a new international partnership with Jørn Ravn of Denmark. "Expanding our offerings of custom log homes to Europe will fill the interest Estemerwalt has received from families, builders and developers in European countries," says Kurt Propst, owner of Estemerwalt, a 5th generation family-owned company with over 126 years experience in the lumber industry.
Mr. Ravn will serve as a European support consultant and builder for Estemerwalt in various European countries including Denmark, Germany, Russia, The Netherlands and Norway. "Estemerwalt Log Homes has generated a reputation for seamless overseas delivery," says Mr. Ravn. "Their product line is exceptional, and it just made sense for us to partner together on this new endeavor. It will provide Europeans direct access to high-end custom log homes from the United States."
The new Estemerwalt Log Homes office in Denmark will provide direct support upon delivery to Europe that will ensure clients' homes are unpacked, intact, and handled properly. Estemerwalt has opened this facility in Denmark in order to maintain an inventory of materials in the unlikely event that any part of a clients' home has been damaged in transit or at the construction site. This international joint endeavor by Estemerwalt will not jeopardize or affect customer service to their current and future clients in the United States. "With over 126 years in business, Estemerwalt has not forgotten our roots and our commitment within the United States," says Propst. "We will continue to service clients in the USA as we always have- this partnership simply allows us to officially expand into Europe, and provide them the same exceptional service and product that Americans have come to love and call home."
Estemerwalt Log Homes creates one of the most comprehensive log home packages in the industry, offering a wide variety of log profiles, including D-Log, Half Log, and the ever popular Full Round Log. For more information on Estemerwalt Log Homes, please call 1.800.515.2060, or visit them online at http://www.estemerwalt.com. To learn more about Estemerwalt's international sales, please visit International Sales, or email Jørn Ravn at international(at)estemerwalt(dot)com.
###