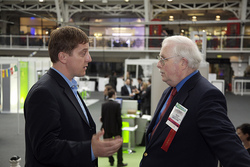 We always ask for and receive feedback on our SES conference programs, and we're responding to that feedback
Chicago, IL (PRWEB) October 14, 2009
For this year's Search Engine Strategies (SES) Chicago, organizers and programmers of the conference, the SES Advisory Board and SearchEngineWatch.com, have paid particular attention to the knowledge levels of all possible attendees. SES Chicago, scheduled for December 7-11, 2009 at the Chicago Hilton, will offer sessions for marketers new to search engine marketing (SEM) and search engine optimization (SEO), to marketers who are in the forefront of SEM and SEO, and to everyone in between.
"We always ask for and receive feedback on our SES conference programs, and we're responding to that feedback," said Matt McGowan, Vice President and Publisher for Incisive Media's Interactive Marketing Group, including Search Engine Strategies, Search Engine Watch and the ClickZ.com. "We know that there will be a certain percentage of people who are first time attendees, and they generally fall into the beginner category. Now that the industry has matured, our biggest challenge is to fill the needs of the advanced attendees. I think we've done a pretty good job with that for SES Chicago."
SES Chicago will feature three full days of conference sessions, including three keynote presentations, solo presentations and panels. The last two days of the conference will be devoted to SEM and SEO training. Discount registration for SES Chicago is available through November 20. The agenda for the conference can be found at: http://www.searchenginestrategies.com/chicago/agenda.html
Sample basic session: The most basic session recommended for SES first-time attendees is "Introduction to Search Engine Marketing," a solo presentation by Dr. Ralph Wilson, Founder and Editor-in-Chief, Web Marketing Today, who says, "It's important when starting out on the SEM path that marketers learn the basics of organic or free search techniques, as well as paid search techniques. We will cover the fundamentals of both in my session. Hopefully attendees will go away ready to jump into implementing their first SEM and SEO programs."
Sample intermediate session: With the rapid growth of mobile apps, SES Chicago has programmed an intermediate track session called "Follow the Carrot: Cool Mobile Apps," which will feature a panel of app developers and experts. They will discuss what place mobile apps have in a marketing strategy today and what might be coming up in the future.
Sample advanced session: The advanced session entitled "Duplicate Content & Multiple Site Issues" is geared toward experienced SEM and SEO attendees. The session addresses many of the possible issues that plague site owners, such as running mirror sites and syndicating content through RSS and feeds, and suggests solutions that will prevent search engines penalizing the site.
For more information about SES Chicago and to register for the conference, visit: http://www.searchenginestrategies.com/chicago/registration-details.html. The advanced rate is available through November 20.
About SES
Incisive Media's Search Engine Strategies is a leading global conference and training series focused on search engine optimization and search engine marketing. Other Incisive resources for interactive marketers include the ClickZ.com for digital marketing news, information, commentary, advice, opinion and research and Search Engine Watch which provides news and information about search, analysis of the search engine industry and tools for improving search marketing effectiveness.
Incisive Media is a leading global provider of specialized business news and information, in print, in person and online. The company's principal markets include financial services, legal services, commercial real estate, marketing services and risk management. Incisive Media's market-leading brands include Accountancy Age, Computing, Investment Week, Legal Week, Post, Risk, and Search Engine Strategies. For more information, visit http://www.incisivemedia.com.
All SES press releases can be found in the online press room at: http://www.searchenginestrategies.com/pressroom.html
###