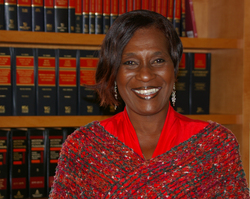 Los Angeles, CA (PRWEB) October 21, 2009
ICDC College was recognized by SLA as the number one proprietary college with 500-1999 borrowers in repayment with the lowest average default rate over the past three years (2005-2007) as published in their 2007 Default Prevention Honor Roll Report. The Student Lending Analytics Default Prevention Honor Roll focuses on colleges that consistently help students stay current while repaying their student loans. ICDC College was recognized as the number one proprietary school to earn an average default rate of 0.52% over the past three years (2005-2007). In addition, it should also be noted that under the Federal Family Education program (FFEL) the 2007 cohort default rate was 7.2% and in the state of California, where ICDC College is located, the rate is 6% for this same period. The cohort default rate is defined as the percentage of borrowers who enter repayment in a fiscal year and default by the end of the next fiscal year.
Joyce Scott, ICDC College's Student Loan Manager, attributes ICDC College's low default rate to educating students fully about financial aid and loan repayment. Ms. Scott states, "ICDC College is successful because we build relationships with our students to educate them on money management and the importance of good credit. Our Financial Aid department is dedicated to helping our students understand their loans and repay them in a timely fashion. In order to continue to keep our default rates low and under control for the future, we will continue to spend more time with our students to help them learn budgeting, credit and saving techniques. The due diligence efforts of both our department and borrowers creates a win-win situation for everyone."
About ICDC College:
ICDC College is accredited by the Accrediting Commission of Career Schools and Colleges, "ACCSC," and offers 20 diploma/certificate career choices including Medical Assistant, Medical Office Management, Medical Office Specialist, Physical Therapy Aide, Pharmacy Technician, Computerized Accounting, Dental Technician, Graphic/Web Development, Massage Therapy, Business Officer Administrator, Medical Office Specialist, Alcohol and Drug Counseling, Homeland Security and Investigation, Networking Technology, and Paralegal. ICDC College has five convenient campus locations in Los Angeles, Van Nuys, Huntington Park, Lawndale and Online. ICDC also offers four distinct Associate's Degree programs in Alcohol and Drug Counseling, Paralegal, Homeland Security and Business Management and Accounting. ICDC College also offers students the option to pursue an Associate's degree and short-term diploma programs both online and on campus. Government Financial Aid, including veteran benefits, grants, and unemployment tuition benefits are available for those who qualify. For more information about ICDC College, please call 1-800-213-5229 or visit http://www.icdccollege.com. You may also contact Lisa L. McGloiry, J.D., Director of Marketing/Media Relations at 310-482-6996 for a media/informational kit.
###