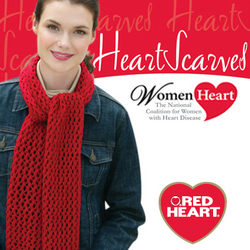 This partnership with Red Heart Yarn is instrumental in supporting women throughout the country living with heart disease
Charlotte, NC (PRWEB) October 15, 2009
Heart disease is the leading cause of death of American women1. Now, you can support the more than 41 million2 women currently living with or at risk for heart disease by giving of your hands and from your own heart. Knit or crochet a red scarf as part of the HeartScarves project which provides handmade red scarves to women with heart disease as a symbol of care and support.
Red Heart yarns, a Coats & Clark brand, and WomenHeart: The National Coalition for Women with Heart Disease, have joined forces to create the HeartScarves project kit. Inside each bag is everything you need to knit, crochet or weave a red scarf - one skein of Red Heart® Super Saver™ yarn, Susan Bates® size US 9 (5.5 mm) knitting needles or size US I-9 (5.5 mm) crochet hook depending upon your craft, instructions from Red Heart for knitting or crocheting a scarf plus interesting tidbits as to why knitting and crocheting are good for your own heart health.
HeartScarves can be made individually or in groups. For every kit purchased from shopredheart.com, Red Heart will donate $3 to WomenHeart. The kits are $12.99 each. To order your HeartScarves kit and get started today visit http://www.womenheart.org or http://www.redheart.com.
"This partnership with Red Heart Yarn is instrumental in supporting women throughout the country living with heart disease," said Lisa M. Tate, CEO of WomenHeart. "HeartScarves is a truly heartfelt gift that makes a tremendous difference in the life of a woman living with this devastating condition."
HeartScarves are distributed through WomenHeart Support Network Coordinators, the only national network of trained volunteers providing support to women with heart disease. Each red scarf is accompanied by a personal, heartfelt note of support, love and encouragement from the creator. WomenHeart Support Network Coordinators deliver the scarves to women heart patients in hospitals and cardiac rehabilitation centers.
Created in 2005 by two women heart disease survivors, the HeartScarves program delivers handmade, red scarves to members of our WomenHeart Support Networks, and to women undergoing cardiac procedures. Symbolizing the lifelines of caring and support that exists among us, each red scarf is meant to offer comfort, support, and encouragement for a woman with heart disease and become a part of her healing journey. Recipients of the scarves truly feel the love and attention that go into the production of these hand-made items.
About Red Heart
Coats & Clark is one of the most recognized names in yarn, sewing and needlecraft products in America. First marketed in 1936, the Red Heart® brand today continues to exude its founding principles; quality, value and inspiration for the knitting and crochet enthusiast.
About WomenHeart: The National Coalition for Women with Heart Disease
WomenHeart is the nation's only patient advocacy organization serving the 41 million American women living with or at risk for heart disease - the leading cause of death in women. WomenHeart is solely devoted to advancing women's heart health through advocacy, community education, and the nation's only patient support network for women living with heart disease. WomenHeart is both a coalition and a community of thousands of members nationwide, including women heart patients and their families, physicians, and health advocates, all committed to helping women live longer, healthier lives. For more information or to join, visit http://www.womenheart.org.
1Lloyd-JonesD, Adams R, Carnethon M., et al. Heart Disease and Stroke Statistics 2009 Update. A report from the American Heart Association Statistics Committee and Stroke Statistics Subcommittee. Circulation 2009, 119.c21-e181.
2National Center for Health Statistics. Deaths: Leading Causes for 2004. National Vital Statistics Reports. 2007; 56(5):1-96.
###