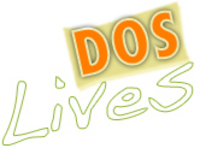 The Dos Lives Weekly Podcast with Jon and Mariana
New York, NY (PRWEB) October 15, 2009
Health problems impact people from all walks of life, including the estimated 47 million Latinos living in the United States. While U.S. Latinos differ in many ways, they are united by the wide array of health risks they share including obesity, diabetes and heart disease. In fact, Latinos have a 21 percent higher prevalence of obesity than non-Latinos and 18.5 percent of Latino children are obese, according to the Centers for Disease Control and Prevention (CDC).
To continue the momentum of Latino Nutrition Month (September 15th-October 15th) DosLives.com, the English-language Web site catering to bicultural Latinos, DosLives.com announces its own "Dos Lives Te Invito Fitness Challenge" for Latinos living in the United States. Participants will be encouraged to set fitness goals and can follow weekly updates from the Dos Lives team members who are participating in the fitness challenge. Popular Dos Lives features including "Mi Cocina es Tu Cocina," "Tu Tecnologia" and "The Dos Lives Weekly Podcast with Jon and Mariana" will highlight exercise and nutrition tips and share encouragement for Latinos participating in the challenge.
Participants are asked to submit their own fitness ideas, success photos and videos to be entered to win iTunes gift certificates. The top winner will receive a $100 iTunes gift card and 2nd and 3rd place winners will each receive a $50 iTunes gift card. For more information on the challenge, visit http://www.DosLives.com and click on the "Te Invito Challenge" link at the top of the page.
"The Dos Lives team invites all Latinos to join us for the Fitness Challenge," said Jonathan Diego Byington, founder and president of Dos Lives. "The health statistics are startling and we at Dos Lives want to help improve Latino health one step at a time.
Contestants must be 18 years or older and all are encouraged to enter. The contest runs from October 15, 2009 to November 30, 2009 and winners will be announced the week of December 7.
Companies interested in sponsorship opportunities for the challenge can e-mail fitness (at) doslives (dot) com for more information.
About Dos Lives
Headquartered in New York City, Dos Lives is written by a team of bicultural Hispanic bloggers in the U.S. and abroad who explore the ever-changing Latino experience in the U.S. and everything that comes with it. In addition to the Web site, Dos Lives produces the weekly Dos Lives Podcast with Jon and Mariana available on iTunes, microblogs on Twitter and can also be found on http://www.Facebook/DosLives.com.
###