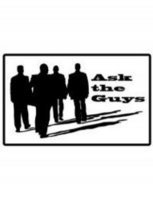 and we do not diagnose people's problems. Rather, we rely on our years of experience as men to provide women with much needed insight.
Seattle, WA (Vocus) October 26, 2009 –
AskTheGuys.com has received their latest question to their relationship dating advice web site.
Started by three friends – Nicholas Ryan, Doc Rogers and Mack Cassidy – AsktheGuys.com was founded on the belief there wasn't a true 'Dear Abby' type column to get the serious male's perspective.
The recent question from "Just Wondering" delves into what men are really thinking when they wake up a sleeping woman, with an honest answer from Mack Cassidy.
"We are not psychologists," Cassidy stated, "and we do not diagnose people's problems. Rather, we rely on our years of experience as men to provide women with much needed insight."
Despite its recent official launch, AsktheGuys has already become a cult sensation just by word of mouth alone from people wanting to learn how guys think.
Ryan said: "AsktheGuys started because the three of us were consistently consulted for advice from our female friends looking for answers regarding the men in their lives. Then, the three of us were at a bar one day and a few girls started asking us questions about the male perspective. They all commented on how wonderful the advice was because there was no place to get real, honest perspective from real men."
Ryan continued to say that he heard from many females that the majority of sites about men are impersonal and don't give true insight about how men think.
Questions have already ranged from why men cheat to how to tell a guy he wears too much cologne to the best ways of asking someone to the prom. Regardless of the questions, the guys answer honestly, even when the answer might sound harsh.
Rogers said: "We have been encouraged by the wide variety of questions and ages of the advice seekers. Furthermore, even though we set up this site mostly for women to ask questions, we are finding that men often want to know if what they are feeling is typical or not."
And because the three guys have very different pasts, they have a practical guy's perspective on every type of life event. One is married with a kid. One is a serial dater who is focused on his professional career. And the third tends to be more selective on who he dates and when.
"I think what makes our site work best is that we have three guys who have very different relationship histories," said Mack Cassidy, who, after spending years being selective and experiencing multiple long-term relationships, recently got engaged. "We are very excited for the official launch of AsktheGuys and think it's going to be a huge success."
For more information or to ask the guys a question, visit http://www.asktheguys.com.
###