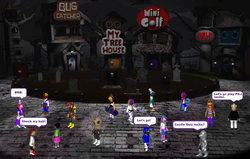 Los Angeles, CA (PRWEB) October 15, 2009
Wowzie World, the most exciting on-line virtual world on the planet for kids, introduces this year's "Halloween Spook-Tacular".  The entire on-line virtual theme park has been transformed into a new Halloween theme, filled with spooky rides, a multi room haunted house and wild costumes that kids will love!
The Wowzie World "Halloween Spook-Tacular" will continue until October 31st. Visitors can ride the new spooky log ride and take a twisty turn on the Vomit Coaster. Players earn Wowzie cash by playing the 20 plus games located through out the on-line theme park. Members can spend their money on costumes and cool items to customize their own spooky tree house.
Halloween at Wowzie World is free to all kids and targeted towards the 7-11 age group. For those kids who want to unlock all the features of Wowzie World, monthly memberships are just $5.95.  
Kids can visit the Spook-Tacular by visiting http://wowzies.com
About Wowzie World
Wowzie World was launched in July, 2009 and features all the fun of a regular theme park, including stores, rides, theme areas and over 20 games! Special chat filters protect kids from sharing their real names, location, phone numbers, email addresses and other identifying information. The filters also prevent inappropriate and offensive language from being displayed.
Wowzie World is always open and provides kids with a creative outlet that is constantly changing and gives parents piece of mind that their kids are having a safe on-line experience.
To learn more about Wowzie World, visit http://www.wowzies.com
###