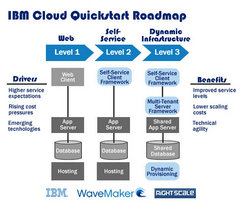 Enterprise and ISV developers are finding that traditional development approaches don't address fundamental cloud computing issues like cloud security, scalability and resilience
San Francisco, CA (PRWEB) October 14, 2009
WaveMaker, the leading open source cloud development platform, today announced the cloud quickstart program, a collaboration between IBM, Amazon Web Services, RightScale and WaveMaker to provide a complete cloud computing solution.
The cloud quickstart program is based on a reference architecture from IBM and best practices from other partners. The cloud quickstart architecture has been proven by IBM business partners like KANA and is backed by a 10,000-strong developer community.
The objective of the cloud quickstart program is to help developers migrate to cloud computing while protecting existing IT investments. Companies selected for the program by IBM's Developer Relations team receive a no-charge architectural review and technical support for a cloud proof of concept.
"RightScale is pleased to offer this turn-key solution with WaveMaker, IBM and Amazon. The IBM Cloud Quickstart Program provides a significantly faster and easier on-ramp to deploying your application on the cloud." said Josh Fraser, RightScale VP of Business Development.
"Enterprise and ISV developers are finding that traditional development approaches don't address fundamental cloud computing issues like cloud security, scalability and resilience," said Chris Keene, CEO of WaveMaker. "The cloud quickstart program fills in all the gaps in cloud computing, enabling developers to get applications deployed to the cloud in hours not months."
October events to promote the cloud quickstart program include webinars on Thursday, 10/15 and Tuesday, 10/20. These webinars feature hands-on demonstrations of building cloud-ready applications with WaveMaker and deploying them to Amazon EC2 using RightScale. Register for these webinars at http://www.wavemaker.com/ibmquickstart.
About RightScale
RightScale is the leader in cloud computing management. Founded in 2006, the company offers a fully automated cloud management platform that enables organizations to easily deploy and manage business critical applications across multiple clouds with complete control and portability. The RightScale Cloud Management Platform is delivered as "software as a service" (SAAS) and is available in a range of editions, from the free Developer Edition to Enterprise Editions. To date, thousands of deployments and more than 500,000 servers have been launched on the RightScale Platform for leading companies such as Animoto, Playfish, Sling Media and TC3. To learn more about RightScale, please go to http://www.rightscale.com.
About WaveMaker Software
WaveMaker is the leading open source cloud development platform, with a 10,000-strong developer community and a leadership role in IBM's Cloud Quickstart Architecture (teamed with IBM, Amazon and RightScale). WaveMaker makes it ridiculously easy to build, deploy and customize cloud applications with its drag and drop, self-service client, multi-tenant server and one-click cloud deployment. WaveMaker customers like the Center For Disease Control, Best Western, Macy's and KANA have built amazing-looking web applications with minimal learning curve and up to 98% less code. For more information, please visit http://www.wavemaker.com.
About Amazon Web Services
Amazon Web Services (AWS) provides a suite of solutions that enable organizations to leverage Amazon.com's robust technology infrastructure and content via simple API calls. Using services such as Amazon EC2, Amazon S3 and Amazon SQS, organizations can cut fixed costs by letting Amazon do the "heavy lifting" of building and managing their infrastructure. Amazon Web Services helps organizations focus on their idea and develop web applications in a reliable, scalable and cost-effective manner. For more information, visit http://aws.amazon.com.
About IBM
IBM is the world's largest information technology company, with over 80 years of leadership in helping businesses innovate. IBM is also the global market leader in SOA, with more than 7,000 customer implementations worldwide to date. IBM has a thriving community of greater than 120,000 architects and developers, 300 SOA-specific technology patents, 2,000 universities advancing the SOA curriculum, and leading IBM Business Partners to build on customer SOA skills, solutions, and practices. For more information on how IBM is helping clients to make smarter, faster decisions, please visit: http://www.ibm.com
All trademarks are property of their respective holders.
###