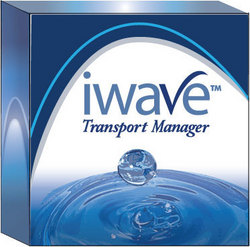 We believe that iWave Transport Manager offers SAP customers a best of breed solution for managing change and ensuring that their change management processes are compliant with company and industry regulations
Phoenix, AZ and Frisco, TX (Vocus) October 14, 2009
iWave Software, the fastest growing provider of IT process integration and automation software, today announced the release of iWave Transport Manager 7.0 at SAP TechEd 2009 in Phoenix, AZ. iWave Transport Manager 7.0 helps organizations reduce the costs associated with their SAP change management processes while enforcing compliance to industry security and control standards.
For most firms, managing change within their enterprise SAP deployment is a manual, time consuming and error prone process. iWave Transport Manager 7.0 automates the change management workflow for SAP, enabling enterprise organizations to easily implement repeatable Change Management processes, which comply with both internal and industry security and control standards.
Some of iWave Transport Manager 7.0's key enhancements include:

Separation of "Creator" and "Approver" Roles within SAP: iWave Transport Manager 7.0 separates the roles "creator" and "approver" of changes within SAP. Creators can be restricted from approving their own changes, thus reducing the risk of unauthorized changes and security breaches while providing the separation of control required by many industry regulations.
Audits when Approvers Reject Previously Approved Actions: iWave Transport Manager logs all actions that occur within an SAP change approval workflow, including actions that "un-do" previously approved actions.
Flexible Scheduling of SAP Changes: iWave Transport Manager provides SAP Basis Administrators and Approvers the flexibility to schedule the application of SAP changes at a future date and time.
Reaction from the iWave Transport Manager community has been overwhelmingly positive.
"We are very pleased with the many enhancements made to iTM 7.0, especially the 'Tightly Controlled Change Management' functionality that prevents a user from promoting a transport they own or have ever owned. This has always been an area of contention with the auditors and is strategic in helping us stay in line with regulatory compliance," said Itai Kafri with Ness Technologies, a long time user of iWave Transport Manager.
"We believe that iWave Transport Manager offers SAP customers a best of breed solution for managing change and ensuring that their change management processes are compliant with company and industry regulations," said Chet Hodgins, Director of Product Management for iWave Transport Manager.
Brent Rhymes, President of iWave Software adds, "We are on schedule to deliver our vision of a truly closed-loop change management solution for SAP by the end of the year. Our user community should expect additional enhancements to iWave Transport Manager for SAP in the near future."
About iWave Software
iWave Software provides software and services that help enterprise organizations automate the support of their IT infrastructure and critical business applications. For the past 16 years, Global 500 firms such as Raymond James, IGT, the European Patent Office and others, have leveraged iWave Software's products to streamline their IT support while improving quality of service and lowering operating costs (http://www.iwavesoftware.com).
Headquartered in Frisco, Texas, iWave Software LLC is a privately-held subsidiary of the Hall Financial Group, a diversified financial firm with a focus in real estate lending, commercial development, public and private securities investing, oil and gas, and the vineyard and winery business (http://www.hallfinancial.com/content-core.asp).
About SAP TechEd
SAP TechEd will be held in Phoenix, AZ on October 13 – 16. SAP TechEd provides high-impact technical and business process training that will energize, engage, and empower attendees to maximize their company's IT investment, including SAP and non-SAP systems. At SAP TechEd, attendees will learn how to use the power and flexibility of the SAP NetWeaver technology platform, SAP BusinessObjects solutions, and SAP Business Suite applications to reduce the total cost of ownership across their IT landscape. For more information on SAP TechEd 2009, visit the web page at http://www.sapteched.com/usa/home.htm.
Visit iWave Software at booth 404 to learn more about iWave Transport Manager.
Press Contact:
Brent Rhymes, President, iWave Software, 1-866-924-9283.
###