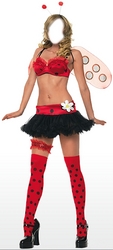 With one click, they can plan group costumes, couples costumes, or share opinions on costuming without dealing with holiday crowds and lines.
Las Vegas, NV (PRWEB) October 14, 2009
With a sharp new design, easier navigation and a host of user-centered features, HalloweenYourself's site launch marks the 15th anniversary of the company's internet presence, since its 1994 launch made it the Internet's first costume shop.
"We've always viewed Halloween as a time for revelry and fanfare," explained Carrie Sheerin, HalloweenMart Vice President. "This year, we're celebrating 15 dedicated years of service, providing creative, affordable Halloween costumes online by giving back to our customers."
HalloweenMart's revamped website also integrates seamlessly with popular social networking sites, allowing customers to share costumes and accessories with Facebook, MySpace, and other social media contacts with the click of a button. Additionally, the new Twitter feed allows customers to view the latest Halloween costumes and promotions throughout the year. Customers can even post comments to the website directly from their Facebook page, using a specialized plugin.
"The new website gives partygoers ways to share their costume ideas and collaborate in a digital age," said Sheerin. "With one click, they can plan group costumes, couples costumes, or share opinions on costuming without dealing with holiday crowds and lines."
HalloweenMart revamped their website in an effort to make it easier to search and browse its catalogue of over 10,000 items, making it the Internet's largest selection of Halloween wear. Other website features include make-up tutorials, homemade Halloween costume how-to guides, and intuitive suggestions of costume accessories and Halloween props to complement costumes.
"HalloweenMart has grown alongside the Internet," noted Sheerin. "We've listened to the needs of our customers, providing a streamlined way to chat about Halloween costumes, browse through the virtual costume rack to find the right look and size, and make a quick purchase, shipped straight to their doorsteps."
To commemorate its 15th anniversary, HalloweenMart is offering special discounts for its customers who join their email list . Customers can experience the new HalloweenMart website at http://www.halloweenmart.com/. Costume shoppers can also join HalloweenMart's Twitter feed at @halloweenmart, visit the company's Facebook page, or add the company to their MySpace friends at http://myspace.com/halloweenmart. Customers requesting extra care can also place costume orders by calling (800) 811-4877.
About HalloweenYourself
HalloweenYourself is a new an exciting game that offers the ability for users to super-impose photos from any computer on one of HalloweenMart's costumes and send a copy to friends and family via email. To play the game, visit http://www.halloweenyourself.com/.
About HalloweenMart
As the Internet's oldest and largest Halloween supply store, HalloweenMart has remained the premiere online costume shop on the Internet. Headquartered in Las Vegas, a city known for elaborate costuming, HalloweenMart brings a Vegas-caliber glamour to the Internet marketplace. HalloweenMart's Nevada based retail store and distribution center measures over 20,000 square feet, housing over 10,000 unique costumes and accessories, ranging from risqué to classic. With 15 years of online experience outfitting adults, teens, children, babies and even pets, HalloweenMart also provides decorations, masks, props and accessories for partygoers year round!
###