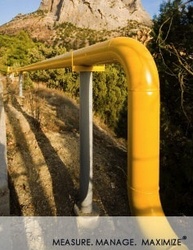 As regulatory requirements tighten and profits narrow, pipeline companies are under substantial pressure to control the costs of inspecting and operating thousands of miles of pipelines
Dallas, TX (Vocus) October 14, 2009
Solomon Associates, the leading performance improvement company for the global energy industry, today announced that it has embarked on its 2009 Worldwide Liquid Pipeline and Terminals Comparative Performance Analysis studies. The benchmarking studies enable pipeline and terminal companies to analyze their operating performance as a basis for enhancing their maintenance programs, reliability and efficiency.
"As regulatory requirements tighten and profits narrow, pipeline companies are under substantial pressure to control the costs of inspecting and operating thousands of miles of pipelines," said Hank Brolick, P.E., vice president of pipelines for Solomon Associates. "With so little margin for error, relying on the old, simple mathematical analysis of the past -- like using a metric of barrel-mile or diameter-inch mile -- is no longer sufficient. That's why Solomon's sophisticated methodology is more valuable than ever."
Solomon Associates' pipeline and terminals studies, introduced in 2000, are the only industry-wide analyses that enable operators to improve their reliability and efficiency through a comprehensive, apples-to-apples comparison to peer data. The Solomon Associates database includes more than 50 pipeline companies representing 250 pipeline systems worldwide, and more than 30 terminal companies representing 200 terminals worldwide.
"Solomon's normalized data enables study participants to chart their performance against the rest of their industry - whether their pipelines carry refined products, crude oil, natural gas liquids, or petrochemicals, and whether their receipts and deliveries are by marine, pipeline, road, or rail," Brolick said. "We enable participants to accurately measure asset performance, providing a starting point for optimizing maintenance programs, personnel efficiency, energy costs and other aspects of operations."
The pipeline and terminals studies enable participants to --

Quantify performance improvement opportunities through gap analysis.
Determine competitive position using industry peer groups.
Establish performance targets and measure progress using Solomon Associates indicators.
Assess future performance impact of planned capital improvements/modifications.
Demonstrate performance/capability to financial institutions and security analysts.
Build corporate trust through performance improvement activity.
Interested companies may learn more about these studies by visiting solomononline.com/pipeline and completing the contact form, or by contacting Hank Brolick at hb(at)solomononline.com.
About Solomon Associates
Based in Dallas, HSB Solomon Associates LLC is the world's leading performance improvement company for energy companies seeking to identify and close gaps in operational performance. Combining proven, patented methodologies with objective data analysis, and led by a team steeped in hands-on operational experience, Solomon Associates consistently helps clients with energy-intensive assets achieve greater efficiencies, enhanced reliability, and improved margins. Solomon Associates is part of HSB Group, Inc. To learn more about Solomon Associates, visit http://www.solomononline.com.
Contact:
Cathy Baradell
(972)235-3439
###