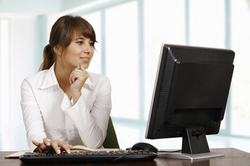 Miami, FL (Vocus) October 14, 2009
CBT Planet has reached an agreement with an authorized SkillSoft partner, to offer the SkillSoft IT Skills and Business Skills Courseware Collections.
SkillSoft PLC is a leading provider of e-learning and performance support solutions for global enterprises, government, education and small to medium-sized businesses. SkillSoft enables business organizations to maximize business performance through a combination of comprehensive e-learning content, online information resources, flexible learning technologies and support services."
CBT Planet specializes in a broad spectrum of computer training and learning solutions to fit the requirements of individuals desiring to enhance their qualifications and corporations seeking to upgrade the certification level of their staff. An overview of the online training courses listed in the CBT Planet catalog include over twenty three training suites in areas such as the Microsoft Office Ultimate training, the Adobe CS3/CS4 training, the Oracle 10g and 11g CBT suites and the Help Desk Support Training library. There are forty five CBT Planet certification courses from industry luminaries such as Cisco, CompTIA, Microsoft, Linux, and areas involving network security and project management, with new courses arriving on a very frequent basis. The CBT Planet assortment of classes also contains various IT certification boot camps, desktop training and soft skills training.
The distance learning aspects of CBT Planet provide a hands-on remote classroom solution with the atmosphere of being seated in the same room as the instructor and other participants. This online virtual method of instruction conducted over a network allows for real time, synchronous guidance from a world class certified instructor, whether you are in California, Maine or any point in between, as well as out of the country. Acquiring new information in this fashion is an extremely convenient and cost efficient method of continuing a personal or professional education. This method is also very popular with busy working professionals, who desire to interact with other students, bouncing ideas and concepts between each other and the instructor. CBT Planet currently offers thirty seven classes that are available for this type of remote instruction.
The CBT Planet enterprise training solutions delivers innumerable solutions for companies to enhance their productivity and overall worth by augmenting the technical abilities of their employees, resulting in a win-win situation for everyone. Distributed over a company's intranet, the training modules are available on a 24/7 basis. This grants employees the option to train at their convenience, whether it occurs before work, special company training conferences, during informal group lunch training sessions, after work or anytime an employee is granted access. This added benefit assists the company in a smooth division of productive office time with positive and informative study sessions, with the advantage of a larger amount of retained knowledge and application of the material learned.
About CBT Planet:
CBT Planet, a Blended Learning provider, adds credibility to your training and the knowledge you master. Blended Learning melds the best of e-learning and online training to provide you with an interactive online experience including simulations and hands-on labs that reinforce real world situations. Contact a CBT representative and inquire about the wide collection of computer training courses available and ready to present you with the best instruction and knowledge in the industry today. Discover the Microsoft Servers training classes and other training solutions detailed in the CBT Planet catalog and how CBT Planet can serve the needs of your company.
Contact Information:
John Paul Fernandez
AVP Business Development
Toll: 866-718-7246
Web: http://www.cbtplanet.com/
###