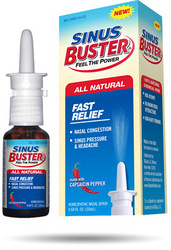 We knew right away that Buster Nasal sprays had huge potential based on the amazing customer testimonials we received. It was a big hit with consumers from day one and now it's gaining wide acceptance with mainstream retailers
Morristown, NJ (PRWEB) October 14, 2009
In 2003, Sinus Buster was launched on the web as the world's first capsaicin nasal spray, designed to relieve sinus, allergy and headache symptoms naturally. Today Sinus Buster has garnered wide distribution in some of the nation's biggest retailers including Walgreens, Rite Aid, Kerr Drug, Pathmark, A&P, Wegmans, Giant Eagle, Price Chopper, Discount Drug-Mart, Meijer and more.
It all began when a long time headache sufferer discovered that capsaicin, the active ingredient in cayenne peppers could relieve his headaches almost instantly. Although there were studies showing the effectiveness of capsaicin, there were no capsaicin-based sinus products available until Sinus Buster came along.
"We knew right away that Buster Nasal sprays had huge potential based on the amazing customer testimonials we received. It was a big hit with consumers from day one and now it's gaining wide acceptance with mainstream retailers," says Wayne Perry, inventor of the original Sinus Buster.
In 2008, Perry sold his company to Dynova Laboratories and within a year the new company has significantly increased distribution, making Sinus Buster available to the masses.
"Over the past year, we've upgraded our packaging and manufacturing, and we're now preparing the launch of a significant marketing campaign to take advantage of our growing distribution. Sinus Buster and its sister brands Allergy Buster and Headache Buster have really grabbed the consumer's attention. We're extremely pleased with the early in market results which demonstrate the significant potential of the business," says Jeff Vernimb, VP of Sales and Marketing for Dynova.
Buster Nasal Sprays have given consumers a brand new highly effective, all natural option in the OTC nasal spray market, which currently consists of chemical based products and common saline nasal sprays.
"Most nasal sprays are filled with chemicals and preservatives but Sinus Buster, Allergy Buster and Headache Buster are completely natural. So users don't face the unwanted side effects and rebounds associated with commonly used chemicals" adds Perry.
While mainstream retailers did not focus on natural remedies only a few years ago, today it seems "Natural" is the new buzz word in retail, and Buster brand nasal sprays are reaping the rewards of mainstream acceptance. In fact, Headache Buster was recently featured on an episode of The Dr. Oz Show in a segment about natural headache remedies. Like the other Buster brand nasal sprays, Headache Buster uses capsaicin, but it also incorporates Feverfew and Peppermint oil to specifically target migraines. The Allergy Buster formula features Nettle in addition to the capsaicin to target allergy symptoms, and the original Sinus Buster version features Eucalyptus to relieve nasal congestion. For more information, visit http://www.BusterBrands.com or one of the many retailers carrying Buster capsaicin nasal sprays.
###