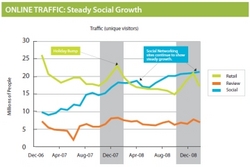 It's clear that social media is influencing search behavior and affecting the purchases a consumer makes.
Traverse City, MI (PRWEB) October 15, 2009
Forget about the recession - or at least, make the most of it. This comes from a new study by Oneupweb that says retailers have an unprecedented opportunity to chart a new path this holiday season and beyond.
"Consumer behavior has changed, permanently," explains Oneupweb Founder and CEO Lisa Wehr. "Budget-conscious shoppers are now looking online to conduct their shopping, and they're searching for product information on social media networks."
The study compared holiday traffic at the top ranking e-tailers, social sites and review sites during the last two holiday shopping seasons. And the findings show that a significant positive shift is occurring.
"The integration of social media and online search provides consumers with a way to quickly search for information, reviews and price comparisons," says Wehr. "It's clear that social media is influencing search behavior and affecting the purchases a consumer makes."
She points out that in 2001 brand recognition drove shoppers to online retail sites like BestBuy.com and Walmart.com. But today, we are seeing exponential growth in traffic to social sites like Facebook, YouTube, Twitter and others.
"We found that social sites are actually contributing more and more traffic to retail sites, especially during and after the holiday shopping season," says Wehr. "There is a significant opportunity for retailers to make the most of this important shopping season. And that involves embracing social media."
For examples of how some retailers are doing just that, visit OneUpWeb.com to download the report entitled: The 2009 Holiday Special Report: e-Commerce Jingles All the Way to the Bank.
About Oneupweb
Oneupweb has been an innovator in digital marketing for more than a decade, creating integrated online marketing plans that incorporate natural search engine optimization (SEO), paid search marketing (PPC), social media marketing, digital pr, display advertising, tracking and analytics, creative services, and research, training and consultation. Heralded by an independent research firm for their leadership team, Midwestern work ethic and solid experience in optimizing complicated sites, Oneupweb has been named a Top 20 Search Marketing Agency by Advertising Age for three consecutive years, and CEO Lisa Wehr is recognized as an Ernst & Young Entrepreneur of the Year. The company publishes an award-winning blog entitled StraightUpSearch. Oneupweb is a privately held company located in Traverse City, Michigan. For more information on Oneupweb, please call 231.922.9977, visit OneUpWeb.com or follow them on Twitter @Oneupweb and @LisaWehr.
###