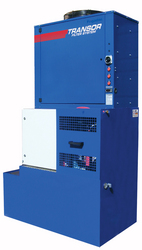 but price is only a part of the equation. Value is truly the most important part.
Elk Grove Village, IL (PRWEB) October 16, 2009
Transor Filter has announced the next generation in "edge filtration" development. According to Transor President Irv Kaage, "In independent testing in the field, Transor's patented and unique edge filtration design continues to outperform other types of filtration available in the market in grinding and EDM applications that utilize oil based coolants." Transor's One Micron Filtration (OMF) is unique in the market as it filters to one micron "absolute".
Kaage went on to discuss that in the filtration field, most discussions revolve around three types of filter options: centrifuge, cartridge and edge filtration. While all have their place in the market, performance and value should always be considered, as price alone is not the only factor.
He mentioned Hoffmann Filter, a company that has offered centrifuge systems for many years. In fact, centrifuge systems were used by most manufacturers until the late 1990's. Centrifuge systems seem to work better with water than oil and have a much easier time filtering larger, heavier particles rather than the smaller, lighter particles associated with carbide. Centrifuge systems normally filter to 10 to 25 microns and the design can pose issues associated with heating up the oil and increasing the noise level in the factory. Due to the high micron level of the centrifuge, they are often times used in conjunction with a filter cartridge to improve the filter level. This option requires frequent maintenance and machine downtime.
Another filtration supplier, Ebbco, offers a multi cartridge system that provides "down to one micron" filtration. Kaage pointed out that unless a cartridge is designed to filter to One Micron continuously - the terminology "down to One Micron" usually means that the filter is new - it may filter at 5 to 10 microns and eventually will achieve a lower micron level when the filter has captured a sufficient amount of debris.
In addition, having several cartridges rather than just one increases the time between filter cartridge changes but still requires downtime to change the cartridges. Once removed, the cartridge must be disassembled to remove the carbide. There are some companies where the cartridges can be sent to the location at which they will perform this task. However, there is an associated cost and the maximum value of the carbide is not realized.
Transor Filter introduced edge filtration to the grinding marketplace in 1999 and rapidly provided end-users a new alternative that delivers many customers benefits through increased through-put, better product finishes and convenient and environmentally friendly disposal of sludge and debris generated by the grinding process.
Kaage discussed how Transor's elements are cleaned automatically every 8 hours requiring no machine downtime or operator involvement. Due to this design, many leading manufacturers have not had to replace elements even after 50,000+ hours of operation.
As the Transor uses no foreign filter media, when the carbide is removed from the elements during an automated cleaning process, the value of the reclaimed carbide is at its highest level. Many companies that have not reclaimed their carbide in the past have realized a quick payoff on their investment through the reclaimed carbide alone.
With the Transor System, a chiller is offered as standard equipment on the filter, enabling temperatures to be held to +_0.2 degrees C. With the chiller providing thermal stability, the chilled coolant reduces the affect of heat on the oil resulting in cases where the oil continues to be in use even after 8 years.
"When comparing the above options, there certainly is a difference in performance, but also a difference in price," concluded Kaage, " but price is only a part of the equation. Value is truly the most important part." As most filtration systems are still in use for better than 10 years after the purchase, it is important to look at performance, service/support and life expectancy along with price before an investment is made. As with most products nowadays, the knowledgeable consumer can obtain a long-term solution and can negotiate a pretty attractive price.
For complete details, contact Transor Filter USA; 1265 Oakton St., Elk Grove Village, IL 60007, 847.640.0273, FAX: 847.640.0793
About Transor Filter
Transor Filter is a world leader in providing filtration solutions for a variety of manufacturing applications such as grinding, honing, lapping, super finishing and EDM. In addition, Transor manufactures a complete line of high performance EDM dielectrics and grinding oils. Over 18,000 Transor units have been installed in over 30 countries. Transor has sales offices in the US, Europe and Asia providing sales and service.
###