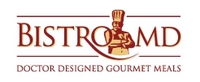 Bistro MD has helped many new mothers get their pre-baby bodies back- Christina Shatlock, RD.
Simi Valley, California (PRWEB) October 15, 2009
New mom Jessica Boen of Simi Valley, California was given 12 weeks of food from diet delivery program Bistro MD. Boen is one of today's guests on the groundbreaking talk show The Doctors. The show provides frank discussions of common health topics and valuable information from renowned physicians. This episode will feature Boen as a mom dealing with issues related to new motherhood, including her struggle to lose weight gained during pregnancy.
In order to provide Boen with a simple, effective way to get her body back, The Doctors called on food delivery program Bistro MD. The company, a leader in diet delivery, donated three free months of prepared, gourmet diet meals to help Boen jump start her weight loss.
Watch the clip from The Doctors show explaining celebrity moms weight loss secrets and how Hollywood starlets use diet delivery services to lose the baby weight.
Bistro MD's Chief Operating Officer Dick Bruno says that giving back to the community has always been a priority for the company. "Bistro MD is small enough to care about individuals and large enough to be able to help." "We really hope our food delivery is an effective solution that Jessica finds convenient."
With the support of Bistro MD's team of dietitians and the readymade meals, Boen and others like her can stop worrying about preparing healthy food and eating right. Bistro MD's delivery program was recently recognized by Health magazine as the "best diet support" meal plan available. Strict caloric control and high protein content make Bistro MD a good choice for new moms and others looking to lose weight without the hassle of traditional diets.
Christina Shatlock, registered dietitian and head of Bistro MD's nutrition support team, says that she has seen many women like Boen accomplish their weight loss goals. "Jessica is not alone in her struggle with post-pregnancy weight." "Bistro MD has helped many new mothers get their pre-baby bodies back." Shatlock explains that the program requires very little effort on the customer's part which makes it "perfect for new moms like Jessica and others with busy schedules".
The Doctors airs five days a week and is brought to you by the same team behind Dr. Phil. ER physician Dr. Travis Stork, OB/GYN Lisa Masterson, cosmetic surgeon Dr. Andrew Ordon, and pediatrician Dr. Jim Sears make up the panel of experts. The show highlights on-set medical procedures in front of the studio audience and in the exam room.
Top 10 New Health Problems and How to Avoid Them! airs Thursday, October 15th. Check your local listings or visit http://www.thedoctorstv.com for more information.
Bistro MD offers gourmet diet meals delivered to customer's home. Each dish is designed by the founding doctor and prepared by expert chefs. The company has become a leader in diet meal delivery by offering quality food and customer service in a convenient manner. Bistro MD also specializes in diabetic meal plans, senior meal delivery, and vegetarian meal plans. To find out if diet delivery from Bistro MD is right for you, visit Bistro MD's website.
###