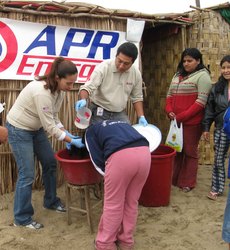 APR takes its social responsibility very seriously and this event is the first of several we have planned for the community of Trujillo, Peru
Trujillo, PERU (PRWEB) October 16, 2009
APR Energy(APR) recently completed a community service project in the community of La Esperanza, Peru. The community service event, coordinated between the local APR Energy power project team in Trujillo, Peru and the Municipality of La Esperanza, promoted personal hygiene initiatives in this poverty- stricken community.
APR Energy donated personal hygiene products and with the assistance of workers from the Municipality of La Esperanza, educated members of the community of La Esperanza and Nuevo Jerusalem on the importance of hygiene and basic tasks such as washing one's hair in order to combat the spread of lice and reduce the associated health risks. These rural communities of Peru are currently experiencing an epidemic of lice, which have been known to harbor and transmit infectious diseases.
Approximately 100 children from the communities of La Esperanza and Nuevo Jerusalem attended this inaugural community service event in Peru.
"APR takes its social responsibility very seriously and this event is the first of several we have planned for the community of Trujillo, Peru," said APR Energy Vice President of Sales and Marketing, Paul Marcroft.
APR Energy's Trujillo Power Project commenced operation in July of 2009 and is currently contracted to supplement existing power for the government- owned national utility in Peru for 18.5 months.
About APR Energy
APR specializes in the sale of reliable and efficient electricity through the rapid deployment of Customized Turnkey Power Solutions. APR's power generation solutions coupled with comprehensive operation and maintenance services and flexible commercial terms have established APR as a leader in the emergency rental power industry.
APR Energy Trujillo Power Project Administrative Assistant and Translator, Mery Muñoz contributed to this release.
Press photos of APR Energy's community service projects in Peru can be downloaded from the APR website at: http://www.aprenergy.com/pressphotos.aspx
# # #