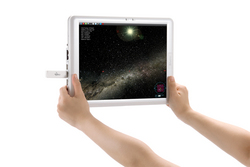 It is not only a great outdoor reference tool for stargazers, but also very useful for city indoor dwellers who can hardly see more than buildings and lights. Furthermore, StellarWindow is a highly valuable tool for education in astronomy.
(PRWEB) October 26, 2009
Stargazers, amateur astronomers and anyone with an interest in the solar system can now bring the galaxies into their home with the release of StellarWindow planetarium software from Fairy Devices Inc. StellarWindow shows the starry sky and celestial objects centered around the direction that users aim a USB stick-type peripheral unit. Compatible with Windows PCS, notebooks, tablet PCs and other operating systems, StellarWindow enables users to enjoy stargazing, regardless of the weather.
"Human beings have developed a collected wisdom of the celestial world ever since the era of Galileo; ironically, development itself makes the night sky brighter and brighter, making it difficult for us to see and be impressed by the starry sky. My work, StellarWindow, is a challenge to reacquire this wonderful starry sky -- vanishing due to technological development, and place it back in our hands by the power of the technology," says Masato Fujino, president and developer of Fairy Devices Inc.
Fujino developed StellarWindow after a series of touching conversations with a young patient he met while attending medical school. This child and many other patients were forced to stay in the hospital for a long period of time, seeing nothing but the small square-cut night sky through their hospital room windows at night. Though they were bound to their small hospital rooms, Fujino felt the need to help these children feel the broadness of the world, to give them hope that one day they would again be able to join the ever-expanding outside world and to let them know countless stars are up in the sky beyond the walls and the ceiling of their rooms.
StellarWindow is supervised by one of the most famous astronomers in Japan, Professor J. Watanabe, National Astronomical Observatory of Japan. "StellarWindow with its motion sensor revolutionizes the world of stargazing. This new concept turns a portable computer into an interactive virtual planetarium," said Watanabe. "It is not only a great outdoor reference tool for stargazers, but also very useful for city indoor dwellers who can hardly see more than buildings and lights. Furthermore, StellarWindow is a highly valuable tool for education in astronomy."
StellarWindow features a USB stick-type peripheral unit containing a combined acceleration and geomagnetic sensor, featuring three-axes each. Based on the sensor's signals, StellarWindow accurately computes the area of the sky to which the sensor is pointed, displaying beautifully rendered realistic images of stars, galaxies, nebulae and solar system objects. With its USB extension cable, the sensor can not only be plugged into the computer, but can also be attached to a pair of binoculars, a telescope mounted on a tripod, a computerized GoTo mount or simply held in hand.
The software features breathtaking photos of star fields and celestial objects, featuring selected images taken by the best astrophotographers on the planet, including thousands of photos taken by Sloan Digital Sky Survery (SDSS). StellarWindow also features the Hipparcos and Tycho 2 catalogs -- 2.6 million stars in total -- plus a deepsky database of over 6,000 objects from sources such as RNGC and Messier. The program also features the eight planets of our solar system and their major moons, all the way up to artificial satellites, including the Hubble Space Telescope and the International Space Station.
In addition to static images, StellarWindow also features exciting realism of galactic events. The software simulates meteor showers with their radiant point on the background of stunning images of the constellations and the full arc of the Milky Way in natural colors. StellarWindow also speaks aloud, announcing remaining angles to a preset object while moving the sensor toward it. This feature is highly convenient when the sensor is mounted on binoculars, scopes or a tripod.
The English version of StellarWindow is available for US $299. For more information and demo videos about this planetarium software or to purchase, visit http://www.fairydevices.jp/en/stellarwindow.html.
About Fairy Devices Inc.
Fairy Devices Inc., originating from the University of Tokyo, was established in 2008 for the purpose of providing people with technologies aiming at enrichment of senses and fascination. Developed for more than convenience, practicality and mere short-term profitability, Fairy Devices' developments are deeply devoted to the minds of those using the products. The mission and raison d'être at Fairy Devices is to be one of the finest suppliers of unique products realized by means of combining the best of the best, irrespective of hardware or software, elder or newer technologies, and domestic or foreign technology sources.
# # #