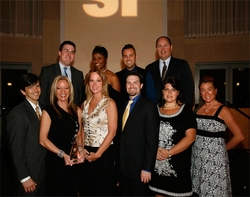 This is one of the few times that our process has changed from online to face-to-face, instead of the other way around
Atlanta (PRWEB) October 15, 2009
Gables Residential is proud to announce that it ranked 14th in the American Society for Training & Development's 2009 BEST Awards program. Gables is among 39 organizations from Canada, Hong Kong, India, Singapore and the United States to receive an ASTD BEST Award. All winners are recognized in a special section of the October 2009 issue of Training + Development (T+D), ASTD's monthly magazine.
Members of Gables Learning & Development Team received the ASTD BEST Award during a reception held in Washington, D.C on October 1. The following day many of the winning organizations gave presentations about their learning and development practices during the "Learn from the BEST" professional development event.
2009 contributions from the Learning & Development team include the launch of a newly designed, self-paced online learning management system known as The Learning SPOT (Shaping Professionals…Optimizing Talent). In a multiyear planning and development process, Gables surveyed employees closely and assessed associates desires and needs for a learning system that is youthful, exciting and easily customizable. "The initial response from our associates has been very positive", said Jana Muma, Vice President, Learning & Development, Gables Residential. "As assessments and courses are taken we will be able to feed the results and information into individual development plans, ultimately being able to better assist associates in the areas they wish to gain better knowledge." The second major program that was carefully revised was Gables' training on Standard Operating Procedures. To facilitate improvements in compliance and audit ratings, the team moved from a web-based training approach to training one-on-one coaching sessions in those 14 specific areas. "This is one of the few times that our process has changed from online to face-to-face, instead of the other way around," says Muma. She notes that the new coaching process can be tailored to each community, allowing increased or reduced focus on items as needed, as well as clear communications of accountability for all of the SOP's. "We are so proud to receive this award for our third consecutive year. To be recognized for our commitment to learning and innovative learning initiatives is truly an honor. The Learning & Development team has a unique passion for improving performance in our company and the executive team supports and fosters our learning culture. This combination yields powerful results we are proud of.", says Muma.
The BEST Awards recognize organizations that demonstrate enterprise-wide success through employee learning and development. According to Tony Bingham, ASTD's President and CEO, "The ASTD BEST Award winners set the standard of excellence for exceptional learning practices, and demonstrate that a skilled workforce is vital to achieving results. They use learning as a strategic tool and have the support of senior leaders who champion a learning culture."
Through an online application, the 2009 BEST Awards received entries from 93 organizations in 10 countries. These organizations submitted quantitative and qualitative information to ASTD about their learning and development practices and programs. Their applications were assessed by members of the BEST Awards advisory committee, a group of experts in the learning and development field.
This is the seventh year of the ASTD BEST Awards and the third consecutive year that Gables Residential has received an award.
About Gables Residential
Gables Residential is a privately held REIT owned by a closed-end fund managed by a joint venture between ING Clarion and Lehman Brothers. With a mission of Taking Care of the Way People Live, Gables Residential has received national recognition for excellence in the management, development, acquisition and construction of luxury multi-family communities in high job growth markets. Gables Residential owns, develops and manages multi-family communities and mixed-use developments in Atlanta, Austin, Dallas, Houston, South Florida, Southern California, and metropolitan Washington, D.C. Additionally, it has third-party management operations in the Chicago, New York, Phoenix, Central and North Florida, and Washington State markets. Gables Residential enjoys a healthy portfolio with approximately 38,000 apartment homes under management, including a corporate-owned portfolio of 62 communities comprising more than 15,000 apartment homes. An additional 2 communities are under construction, comprising approximately 500 apartment homes. Gables also has the ability to develop another 4,000 apartment homes through its shadow pipeline of undeveloped land owned. For more information please visit http://www.gables.com
###